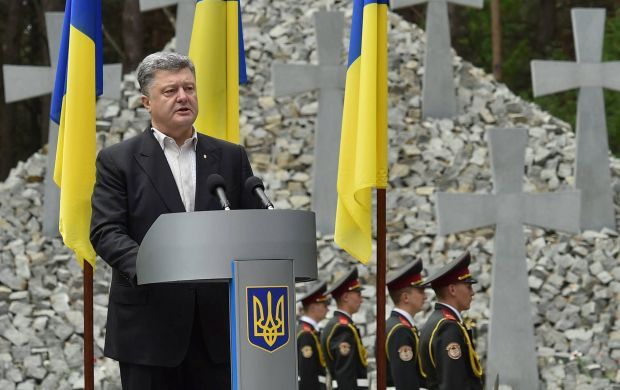 Poroshenko says he signed a package of law on decommunisation / Photo from facebook.com/petroporoshenko
Poroshenko announced this at an official ceremony on Sunday to commemorate the victims of political repression at National Historic and Memorial Reserve "Bykivnia Graves," one of the biggest burial places of victims of totalitarianism. Historians estimate that over 100,000 people were killed in Bykivnia.
"Not long ago I did what I had to – I signed laws on decommunisation, on the recognition of the heroes of the national liberation struggle; and several laws that lay down a contemporary version of the policy of national memory and clear it from an imperial coating," he said.
"Ukraine as a state has done its job, then historians should work, while the government should take care of the future," he stressed.
The Ukrainian presidential press service reported on Friday evening that Petro Poroshenko had signed a package of laws on "decommunisation," which was passed by Ukraine's Verkhovna Rada on April 9, 2015. The laws ban Nazi and Communist symbols and the "public denial of the criminal nature of the Communist totalitarian regime 1917–1991"; they open former KGB archives; replace the Soviet term "great patriotic war" with the European second world war, and provide public recognition to anyone who fought for Ukrainian independence in the 20th century.