Tusk: Riga summit focused on "step-by-step" partnership without "giant steps forward"
President of the European Council Donald Tusk says that the Riga summit is "not about announcing giant steps forward," as "our partnership will go forward step-by-step."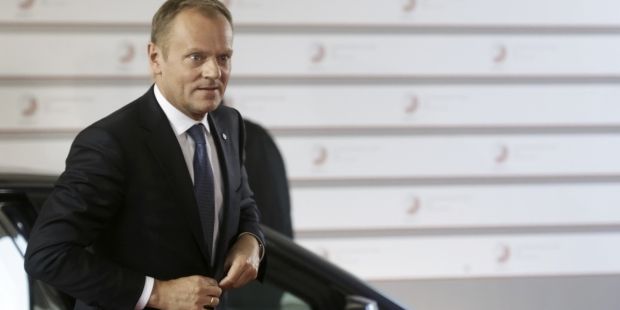 REUTERS
"The Riga Summit is not about announcing giant steps forward. No: our partnership will go forward step-by-step, just like the European Union was built and in this context step-by-step means real progress in trade, energy, mobility and reforms which is also in the best interest of our partners and Europe as a whole," Tusk said ahead of the Eastern Partnership summit in Riga on Thursday.
Another message he has come to Riga with is that the European Union is committed to its course. "The European Union stays the course. Despite the intimidation, aggression and even the war of the last year, the European Union is as committed to our Eastern partners as ever. The record presence of 25 out of 28 EU leaders proves this point," he said.
Another signal is that the European Union wants to advance its relations with all of its partners of the Eastern Partnership. "This means tailoring our cooperation, in line with their needs, readiness and of course their sovereign choices. We want to help them to help themselves to transform their societies to the benefit of their citizens, which also means that they become more resilient towards outside pressure," Tusk said.
He stressed that the Eastern Partnership is not directed against Russia. "The Eastern Partnership is not a beauty contest between Russia and the European Union. But, let me be frank, beauty does count. If Russia was a bit softer, more charming, more attractive," he added.
If you see a spelling error on our site, select it and press Ctrl+Enter