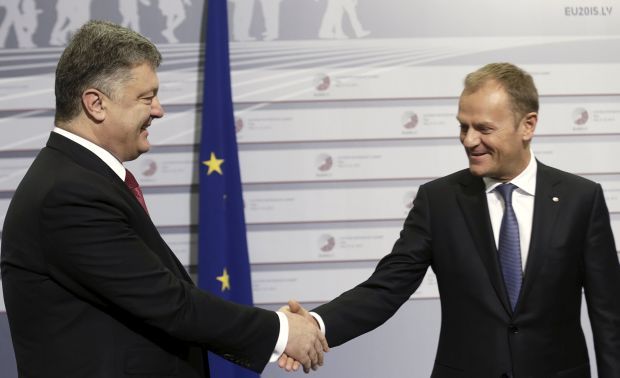 REUTERS
"Summit participants acknowledge the European aspirations and European choice of the partners concerned, as stated in the Association Agreements," the declaration reads.
Summit participants reconfirmed "elements and principles embodied in Eastern Partnership Summit Declarations and underline their firm intention to carry forward the commitments taken at previous Summits and in bilateral agreements."
"Summit participants recognise that democracy, respect for human rights and fundamental freedoms, and the rule of law lie at the heart of political association and economic integration as envisaged in the Association Agreements. They recognise the commitment of the partners concerned to implementing and promoting these values," the document says.
As is known, precisely the clause about acknowledging the European aspirations became one of the major stumbling blocks in the draft version of the declaration.
Summit participants also underlined that the Eastern Partnership continues to serve as the inclusive framework for cooperation and dialogue aimed at long-term, comprehensive modernisation reforms. "They remain committed to ensuring that the full potential of this partnership is reached, building on achievements to date. The Summit discussions on the strengthening of relations between the EU and its partners will also inform the ongoing review of the European Neighbourhood Policy. The Summit participants encourage all sections of their societies to contribute to this review," the declaration states.
They also welcomed the signing by Georgia, Moldova, and Ukraine of the Association Agreements with the EU.
"The Summit participants stress that implementation of AA/DCFTAs [Association Agreements/ the Deep and Comprehensive Free Trade Areas] will be a top priority of the EU and the partners concerned for the coming years," the document concludes.