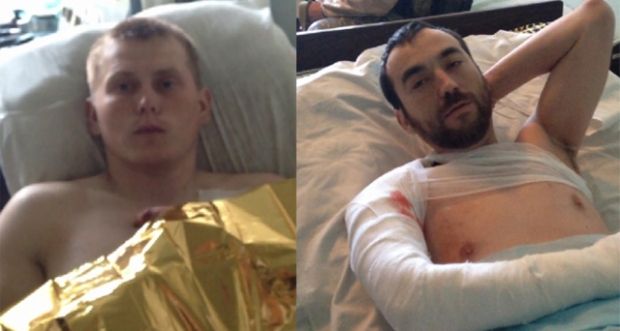 Aleksandr Aleksandrov (left) and Yevgeniy Yerofeyev (right) / Photos from censor.net.ua
"Let me inform that on May 22, 2015, Kyiv's Shevchenko District Court met the Ukrainian Security Service's request to put Russian citizens and servicemen with the Main Investigative Department of the General Staff of the Russian Federation captain Yevgeniy Yerofeyev and sergeant Aleksandr Aleksandrov under arrest until July 19," adviser to the Security Service of Ukraine (SBU) Markiyan Lubkivsky wrote on Facebook.
According to him, the place of their arrest will be determined later by the SBU's Main Investigative Department because they need to complete their medical treatment.
The court hearing was open to the press, Lubkivsky stressed. "No one's access was restricted," he added.
The court decision was read out by Shevchenko District Court judge Valeria Malynovska.
The Russian soldiers' defense attorneys announced they were going to appeal against the court rulings.
As UNIAN reported earlier, two Russian Main Investigative Department officers Aleksandr Aleksandrov and Yevgeniy Yerofeyev were captured by Ukrainian servicemen near the town of Schastia in Luhansk region on May 16.
Ukrainian SBU Chief Valentyn Nalyvaichenko announced on May 18 that the two Russian servicemen would be put on trial for being in a terrorist organization.
Russia's defense ministry, like the Kremlin, earlier said that the Russian soldiers captured by the Ukrainian military in the Donbas conflict zone on May 16 were not acting servicemen of the Russian armed forces, but demanded their release.