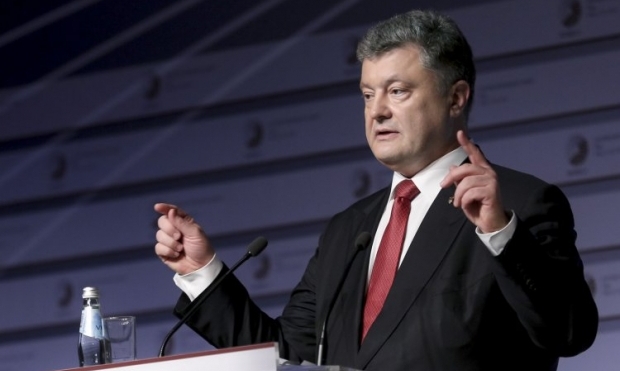 President Poroshenko highlights the inevitability of "eliminating old corruption schemes" in the tax sphere / Photo from UNIAN
Poroshenko took part in the European Business Association Forum "President and Business: Frank Dialogue," where he briefed Ukrainian and foreign businessmen on practical steps in the implementation of reforms aimed at the country's renewal in the framework of the Association Agreement with the EU, the presidential press service reported.
According to the president, one of the most important steps is the fight against corruption, namely the adoption of a package of anti-corruption laws, the transparent election of the Chairman of the National Anti-Corruption Bureau, the establishment of the National Agency on Preventing Corruption, which is to start work by autumn.
Another important step is the implementation of judicial reform. A real step that will regain trust in judicial power will be the introduction of open selection of judges, the cleanup of the system from corrupt judges, and the abolition of their immunity. "We must replace a large number of judges and make liability inevitable. We do not need judicial and deputy immunity in conditions of democracy," Poroshenko said.
The president also noted he was hopeful that the Supreme Council of Justice would hold its session and adopt respective decisions soon.
The president also highlighted the inevitability of "eliminating old corruption schemes" in the tax sphere. "The authorities have been using tax pits for 20 years. Everyone knew that and everyone said that we could do nothing with it. I believe we can. And we will demonstrate that," he said.
"Reshuffles can take place at the Customs Service and other state agencies of different levels in case of improper performance of duties and abuse of office," the president said.
Poroshenko also positively assessed the National Bank of Ukraine's efforts to stabilize the situation in the financial sector. According to him, the National Bank of Ukraine is working efficiently to clean up the banking sphere and ensure the transparent development of the financial sector in order to draw long-term credit resources into the national economy.