Poroshenko: Ukraine has full right to invite peacekeepers to Donbas
Ukraine has the full right to apply to the world community with a request for peacekeeping assistance, Ukrainian President Petro Poroshenko said on the occasion of the International Day of Peacekeepers marked on May 29, while presenting state awards on Thursday to Ukrainian servicemen and law enforcement officers, who have taken part in international peacekeeping missions and the Anti-Terrorist Operation in eastern Ukraine.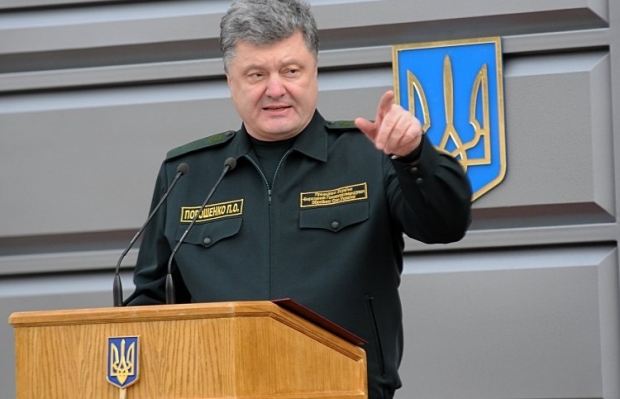 President Poroshenko has again raised the issue of sending peacekeepers to Donbas / Photo from UNIAN
"Ukraine has been assisting the entire world in ensuring peace and stability for 20 years already. Today, the time has come when Ukraine may apply to the UN Security Council for UN peacekeepers to help us restore peace," he said.
The president said he was confident that the peacekeeping mission might ensure control at the Ukrainian-Russian border and prevent the inflow of new armament and military equipment. "We must do everything to liberate our land, properly repel invaders, aggressors, terrorists, torturers of civilians, those who paralyze the economy in the areas of hostilities, those who have deprived people of normal life," Poroshenko said.
The Ukrainian president pointed to the high professionalism of peacekeepers who make incredible efforts to establish peace in conflict areas, ensure the reunification of warring parties, monitor the fulfillment of peaceful agreements, take part in demining of territories, disarmament of illegal armed groups and reintegration of other countries into peaceful life.
"Contribution of peacekeepers to the establishment of peace will never be forgotten by Ukraine and nations of the countries where thousands of lives have been saved," the president said.
He noted that the activity of Ukrainian peacekeepers had always been praised by UN officials and people they had been defending. "I saw for myself how qualitatively our servicemen had been fulfilling their missions. Under conditions when representatives of other countries were forced to withdraw, our peacekeepers had been doing their job to the very end," Poroshenko said.
The president stressed that Ukrainian peacekeepers who have participated in international missions had played an extremely important role in defending Ukraine from aggression. In the first days of the aggression, with a small number of combat-ready forces, they managed to counter numerically superior enemy, according to Poroshenko.
"15 months ago nobody could even imagine that the tasks Ukraine had been fulfilling in conflict zones would become increasingly topical for our country as well. Your experience, skills and morale are essential for Ukraine," he said.
The Ukrainian president on Thursday handed over state awards to 32 Ukrainian servicemen, namely to 20 Defense Ministry officers, 10 Interior Ministry officers, and two to security service officers. All in all, 41 Ukrainian peacekeepers have been granted the awards, but nine of them are now serving in the ATO zone.
If you see a spelling error on our site, select it and press Ctrl+Enter