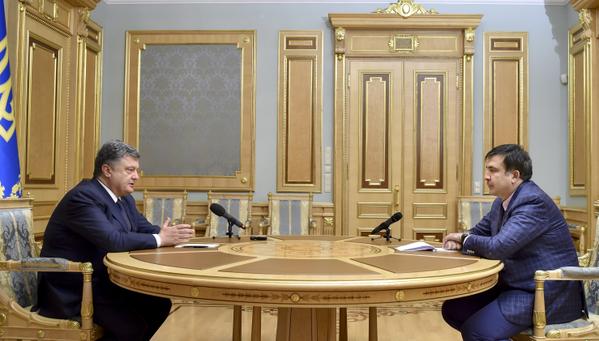 Poroshenko praises Saakashvili / Photo from president.gov.ua
Saakashvili briefed the president on his recent meeting with residents of Odesa region, who have praised the tasks set by the president to fight corruption and put an end to the oligarchs' outrages.
Poroshenko in turn said that a lot of Ukrainians were hopeful and optimistic because of the appointment of Saakashvili as Odesa governor. "They expect concrete, practical results in the near future. First of all, they concern the fight against corruption and restoration of order," the president said.
Poroshenko praised the first initiatives by Saakashvili to arrange competitions to fill executive positions, namely those of heads of district state administrations. The president said he was sure that the idea would be supported by the government. "I really like the idea of reducing the regional administration staff. The stance on de-regulation, de-bureaucratization and de-oligarchization is what Odesa and Ukraine are looking forward to," Poroshenko said.
According to the president, the appointment of Saakashvili to head Odesa region drew the attention abroad and proved the Ukrainian authorities' determination to implement reforms, fight corruption and introduce the principles effectively demonstrated earlier in Georgia.