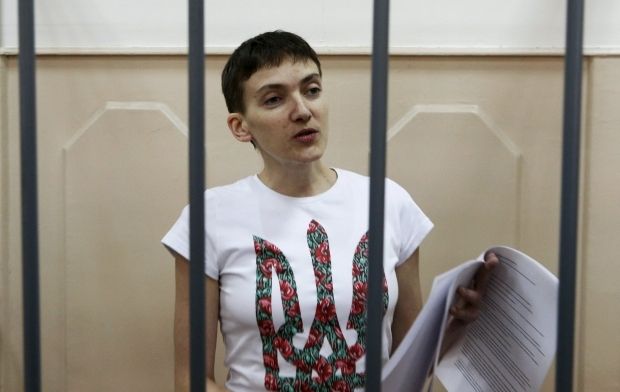 REUTERS
"The European Union firmly calls for her release. This would be in keeping with the "Package of measures for the implementation of the Minsk agreements" and the commitment to release all hostages and detained persons related to the conflict in Ukraine," reads an official statement by the spokesperson on the continuing detention of Savchenko, which was released on Wednesday.
A year ago, Savchenko was captured in eastern Ukraine by Russian-backed separatists. 365 days of detention, most of them in Russia, have severely affected her health. "She has repeatedly been denied the core right to fair proceedings," the statement said.
"Last week, a Russian court decided to further extend her stay in pre-trial detention until 30 September. Whereas the investigation conducted by the Russian authorities has been closed for months, her trial hasn't been announced yet, thereby unnecessarily prolonging her custody," the statement said.
As UNIAN reported earlier, Savchenko was abducted by Russian-backed militants in Donbas last summer, and then taken to Russia, where she was charged with being involved in the death of Russian journalists. However, the defense claims she couldn't have been involved in the death as she had been captured before the journalists were killed.
On December 15, Savchenko went on hunger strike; late in April 2015, she started taking certain types of food.
On April 24, the Russian Investigative Committee brought final charges against Savchenko. In addition to the charges of being involved in the murder of two Russian journalists in eastern Ukraine last June, Savchenko was accused of illegally crossing the Russian border.
On May 5, the Investigative Committee extended the period of probing in the Savchenko case until November 13, 2015.
On May 6, Moscow's Basmanny court extended the pilot's detention until June 30, 2015.
On June 10, Moscow's City Court prolonged Savchenko's arrest until September 30, 2015, at the Investigative Committee's request.
About 30 Ukrainian citizens are unlawfully held in Russian custody now.