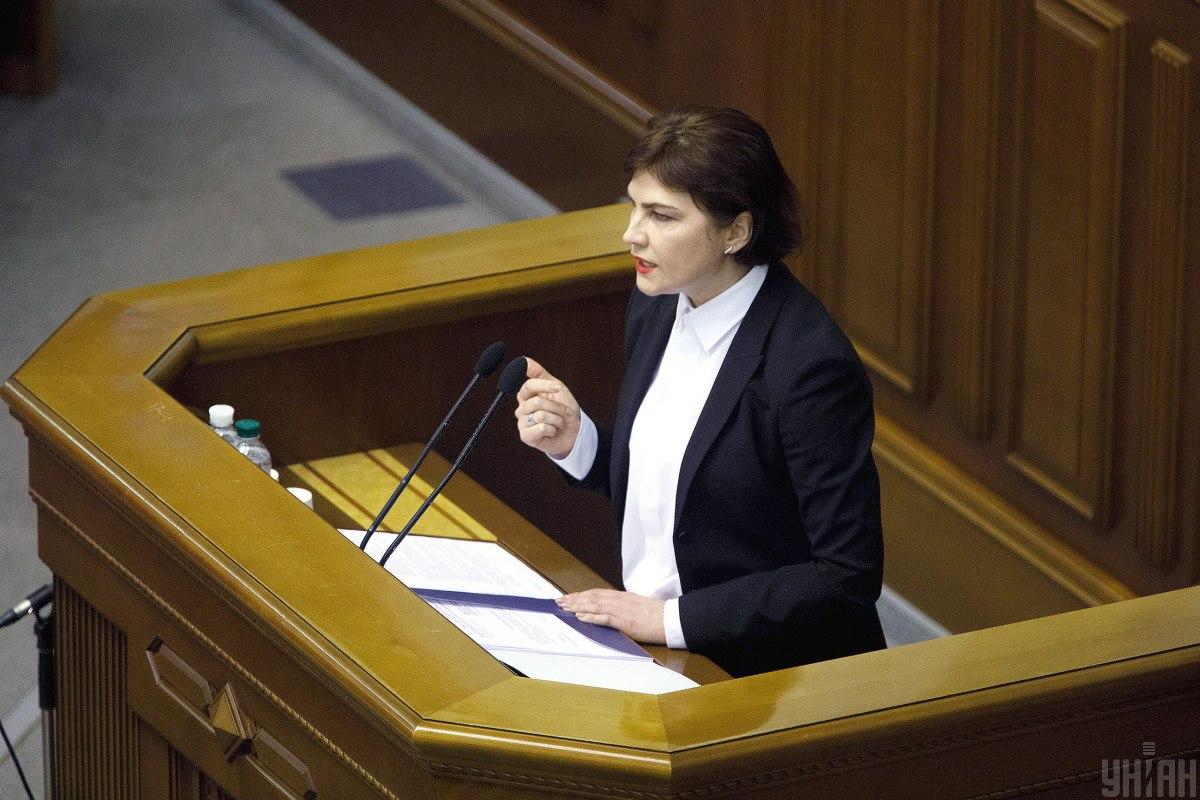 Photo from UNIAN
The Verkhovna Rada, Ukraine's parliament, at an extraordinary meeting March 17 appointed former acting chief of the State Bureau of Investigaiton, Iryna Venediktova, as new Prosecutor General of Ukraine. She replaced Ruslan Riaboshapka, who was dismissed in a non-confidence vote March 5.
Iryna Venediktova, 41, was born in the city of Kharkiv on September 21, 1978. She is a lawyer, Doctor of Law. She graduated from Kharkiv National University of Internal Affairs. In addition, she completed an international commercial arbitration course at the Chartered Institute of Arbitrators in London.
Venediktova has her own scientific school, which includes a number of candidates of sciences, who had defended their theses under her scientific supervision.
Political career
In 2015, Venediktova applied for the post of judge of the Supreme Court. She failed since she did not score the minimum required points.
During the parliamentary elections in the summer of 2019, she was elected people's deputy with the Servant of the People Party. She was third in the party list. She worked as an adviser to President Volodymyr Zelensky on legal policy and justice.
Read alsoIryna Venediktova appointed Ukraine's new Prosecutor General
On December 27, she was appointed Acting Director of the State Bureau of Investigation. Later she terminated her deputy powers. On March 13, she became a member of the National Security and Defense Council of Ukraine.
On March 17, the Verkhovna Rada with 269 votes appointed her Prosecutor General of Ukraine.
Venediktova in SBI
Immediately after her appointment, the official announced a change in the SBI's structure and an increase in the number of investigators in Maidan-related cases. Later, she appointed as her deputy Oleksandr Babikov, the official activists claimed earlier represented fugitive ex-president Viktor Yanukovych as a lawyer. The SBI, however, assured that Babikov would not deal with the Maidan cases.
Venediktova also made a statement that she favors the abolition of the law on amnesty of Maidan participants. Several lawmakers reminded her about this during the appointment to the post of prosecutor general. The official also promised to deliver monthly reports to inform the public about the Maidan investigation progress.
Venediktova as Prosecutor General
Venediktova called her first steps at the new post, in particular the need to conduct an audit of criminal cases and address staffing issues at prosecutorial offices across the country. According to Venediktova, it is therefore necessary to make informed and legal decisions so that the prosecutor's reform continues "without tilts," and on the other hand, so that "prosecutorial offices don't collapse once legal procedural decisions are made."
Venediktova also promises not to take back "prosecutor werewolves" [corrupt prosecutors] to the office.