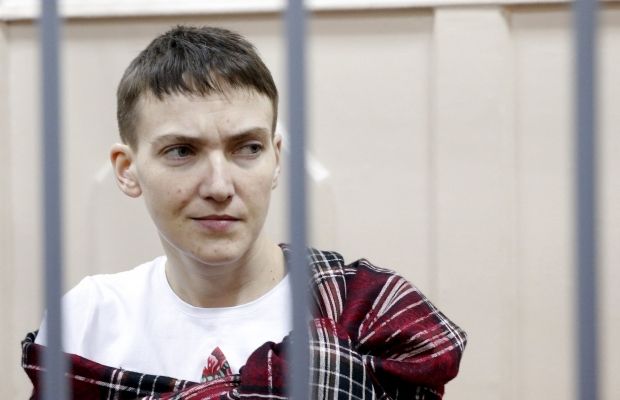 REUTERS
"For the first time, the Moscow city court has acknowledged Savchenko as a delegate to the PACE and still considered she had no immunity status. Next week, these documents from the court hearing will be sent to the European Court of Human Rights. Finally, we can file a complaint," said Novikov.
According to Novikov, yesterday, the Russian court of appeals for the first time refused to release Savchenko and, as a result, the defense has grounds to appeal to the European Court of Human Rights.
"A penalty will be imposed on Russia for Savchenko's unlawful arrest. It is not a quick process - usually the hearings at the European Court may take several years, but given the high priority of Savchenko case, it may take a few months, even before she is convicted and her sentence enters into force," said Novikov.
The lawyer added that Savchenko completed with reading the case materials, and in the near future the consideration of the facts in the case by court will begin.
At the same time, the lawyer noted that was not clear, in what Russian city exactly the court hearings would take place. According to him, it may be Moscow, where most of the witnesses live; or Rostov-on-Don, where Savchenko allegedly crossed the border; or Voronezh, where she has been kept in jail for some time.
UNIAN memo. Russia-backed militants kidnapped Savchenko in the Ukrainian Donbas, and then it moved her illegally over the border to Russia, where she was later accused of involvement in the deaths of Russian journalists. At the same time, according to Savchenko's defense, she could not be involved in these deaths, as she had been captured before the tragic incident.
At the snap parliamentary elections on October 26, 2014 Savchenko was elected as an MP from the list of the Batkivschina party. The Verkhovna Rada has delegated her to the PACE.
On April 24, the Investigative Committee of the Russian Federation accused Savchenko of alleged complicity in the murder of two or more persons and illegal border crossing.
On May 21, her lawyer Mark Feigin said that the preliminary investigation had been completed. Feigin said that Savchenko had been charged with three accounts: complicity in the murder of Russian journalists, illegal crossing of the Russian border, as well as the attempted murder of five persons, referring to the citizens who escaped the shelling while the Russian journalists got killed, he said.
On May 6, Basmanny Court of Moscow extended the arrest Savchenko until June 30.
The Moscow City Court extended the arrest of Savchenko by another three months on June 10, at the request of the Investigative Committee of the Russian Federation - until September 30, which upped her detention period to 15 months.
On July 1, the Moscow City Court upheld the decision of the Basmanny Court of Moscow to extend the Savchenko's arrest until June 30.