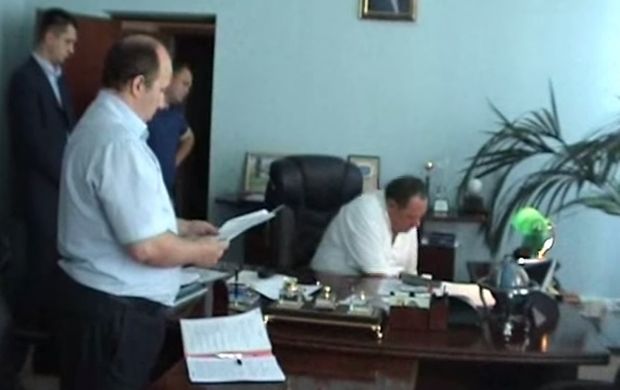 screenshot from video footage
"In order for the judges of the Court of Appeal, human rights activists, lawyers, journalists and concerned citizens to have no doubt that Melnyk had been reasonably suspected of corruption, [I] give you a series of videos that were subject to examination in court and, after watching that, nobody in their right mind would have any doubts whether Melnyk was guilty of corruption offenses or not," Heraschenko wrote. 
The video shows the process of Melnyk's detention after he received "UAH 80,000 in marked bills for "guaranteeing" admission to the Tax Academy.
Besides Avakov's Advisor posted a link to the file, which contains a 123-page acquittal ruling by Irpin City Court.
"While reading Melnyk's acquittal, I caught myself thinking that a panel of three judges moonlighted as Melnyk's attorneys. According to my information, the son of one of the judges… earlier graduated Melnyk's Tax Academy, while his parents were remain close friends with the ex-rector," wrote Herashchenko.
Later in the day, Heraschenko posted the full video clip of investigation process at the Melnyk's office.
"In this video, in the sixth minute, there is a moment when Melnyk was trying to throw marked money from his briefcase, which he received for extortion for his assistance in entering the university," Herashchenko said.
However, in their acquittal the judges of Irpin City Court said that they could see no corruption in the actions of Melnyk, as he could not affect the outcome of the competition for entering the university, where he was a rector after taking the money from the citizens.
UNIAN memo. Melnyk was arrested on July 27, 2013 when receiving bribes in amount of UAH 40,000 and UAH 80,000 from two citizens of Ukraine in exchange for admission of their relatives to the National State Tax Service University.
On August 1, 2013, Pechersk District Court of the city of Kyiv set house arrest as a restrictive measure for Melnyk until September 27.
 On August 9, Melnyk escaped from house arrest and disposing of the electronic bracelet.
 On August 14, 2013 he was put on an international wanted list.
 On April 1, 2014, Interior Minister Arsen Avakov stated that Melnyk had been detained in Boryspil international airport, having arrived from London.
 On June 24, 2014 the Main Investigation Department of the Internal Affairs Ministry completed a pre-trial investigation within criminal proceedings regarding Melnyk's bribetaking.
As part of the criminal proceedings opened under Part 4 Article 368 (acceptance of an offer, a promise or receipt of improper advantage by an official) of the Criminal Code of Ukraine, law enforcers found that in July 2013, the former rector took improper advantage in a significant amount for assisting with admission of two students to the educational institution.
The suspect was released on a UAH 609,000 bail. In addition, the arrest was imposed on property and cash assets owned by Melnyk. The indictment was handed to Irpin City Court of Kyiv region.