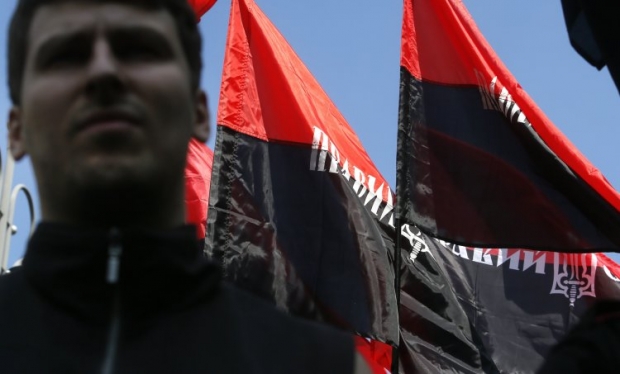 An illustrative image / UNIAN
"Today, Ukraine has seen an extraordinary event that could change the course of history. In the town of Mukacheve in Zakarpattia hundreds of thugs besotted by impunity, working for abuser and drug dealer, [former] Regions Party member Mykhailo Lanyo, who is now Member of Parliament of Ukraine, have attempted to physically destroy Right Sector members. Criminals wearing the police uniform who are dependent on Viktor Medvedchuk, the odious fellow sponsor of the Ukrainians' main enemy [Russian President Vladimir Putin], also took part in this operation with the use of force," the Right Sector said in a statement addressing the Ukrainian nation.
The Right Sector demands the immediate and public arrest of MP Lanyo, who took part in the event in person, as well as "all the criminals and law enforcers who opened fire [on the Right Sector members], and those who ordered to open the fire."
The statement said that "the entire Right Sector military and political movement" has been placed on combat alert."
"After fierce shooting, two Right Sector fighters were killed, four were wounded (two of them [have been injured] seriously). Having picked up the dead and wounded, the [Right Sector] unit fought way through the bandits' ring and retreated up to the [Carpathian] mountains," the Right Sector wrote.
Speaker for the Ukrainian Volunteer Corps of the Right Sector organization Andriy Sharaskin told 112.ua that the Right Sector connects the Mukacheve incident to the fact that the organization had blocked smuggling channels in Zakarpattia.
"Members of the Right Sector's first reserve battalion have been blocking smuggling channels for long. In this connection, they have received multiple threats. After they started to control and block flows of smuggled goods at the [local] customs house, a meeting on this was gathered yesterday. And local gangsters who shelter themselves behind Mykhailo Lanyo fixed an appointment at the Antares [sports] complex at noon today. The fellows immediately informed [us] that local policemen had joined the bandits. Just a few seconds after they ordered our fellows to disarm, fire was opened on them from a heavy machine gun. It was an attempt to eliminate them all at once," he said.
Footage from 112.ua
As UNIAN reported earlier, Ukrainian Interior Minister Arsen Avakov wrote on Facebook on Saturday that criminal gangs using grenade launchers had blown up two police cars, wounded three police officers and four civilians in the town of Mukacheve in Zakarpattia region on Saturday afternoon.