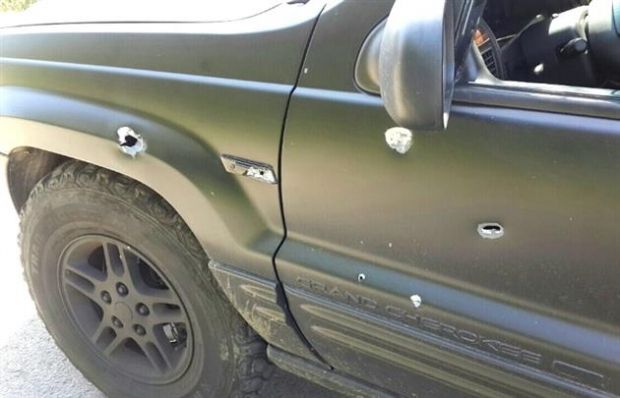 Both parties accused each other of opening fire / mukachevo.net
"During the conflict in Mukachevo, the first ones who used their weapons aiming to kill were those fighters of the Right Sector who were captured on video: they shot a civilian whose body they later loaded into their vehicle,"  reads the statement by Artem Shevchenko, director of the Communications Department of the Ministry of Internal Affairs of Ukraine, posted on the ministry's website,
According to Shevchenko, only afterward did the consolidated police units arrive at the scene on a call. Among the law enforcement officers were those who have had combat experience in the Anti-terrorist operation in Donbas, in particular some police officers took part in defending the strategic transport hub of Debaltseve in eastern Ukraine and left the town in the beginning of 2015.
In full accordance with the law, police officers were forced to engage in the armed confrontation with the attackers, who threatened the security of citizens, wrote Shevchenko.
At the same time, press secretary of the 13th Battalion of the Ukrainian Volunteer Corps of the Right Sector organization Oleksiy Byk claimed during a briefing in Kyiv that police had been the first to open fire in Mukacheve, according to an UNIAN correspondent.
"Two fighters from the Right Sector were killed, another four wounded. There are no casualties among police forces. This indicates that police opened fire initially," said Byk.
The Right Sector official suggests that if the organization's fighters were the first to start shooting to kill, there would be many casualties among police officers.  
As UNIAN reported earlier, the shootout occurred in Mukacheve on July 11 during a conflict between the Right Sector and the people close to Mykhailo Lanyo, Ukrainian MP.
Prosecutor General of Ukraine Viktor Shokin created a joint investigative operative group, comprised of PGO, SBU, and Interior Ministry officials, to investigate into the incident.
Criminal proceedings were opened under Part 1, Article 255 of the Criminal Code of Ukraine (Creating a criminal organization) and Part 3, Article 258 (Terrorist act)