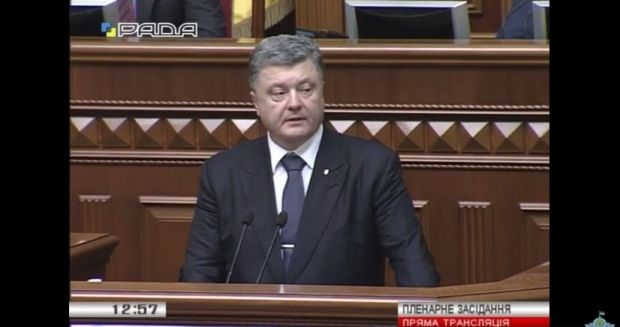 Photo from UNIAN
A bill on amendments was supported by 288 MPs registered in the session hall, according to an UNIAN correspondent.
Prior to the voting, Ukrainian President Petro Poroshenko presented the draft amendments to the parliament and called on lawmakers to support them.
"The main thing is that for the first time in the history of Ukraine, the head of state and the Ukrainian government, which supports the draft bill, have voluntarily conceded a huge amount of their authority, which still belongs to the presidential and government executive vertical," Poroshenko said.
"Secondly, we are sharing not only power, we are sharing responsibility. The direct implementation of the updated Constitution will require that any "changes in the competence of the local government" shall be carried out "with corresponding, simultaneous changes in the allocation of financial resources..." This requirement has not yet been approved, but it already exists in practice. Early this year, we amended the Budget and Tax Codes, as a result of which we boosted local budget revenues by 40%," he said.
Thirdly, the powers will belong to the communities, rather than to the regional authorities, the president said.
"It is the communities, such as cities, towns, villages, and their unions are a primary and main component of the system of Ukraine's administrative and territorial structure, its support structure, its cornerstone," Poroshenko said.
Fourthly, with the changes to the Constitution it is proposed to liquidate the institution of heads of state administrations, which are now appointed from Kyiv.
"The operational governance of the regions and districts will be completely transferred to the regional and district executive committees. They shall be formed by the councils of corresponding levels, elected by people. The executive committees shall be subordinate and accountable to elected councils of corresponding levels. Let me emphasize – to the councils, which means to voters," Poroshenko said.
In addition, he said that the decentralization of power would not involve such areas as defense, foreign policy, national security, monitoring of compliance with civil rights and freedoms.