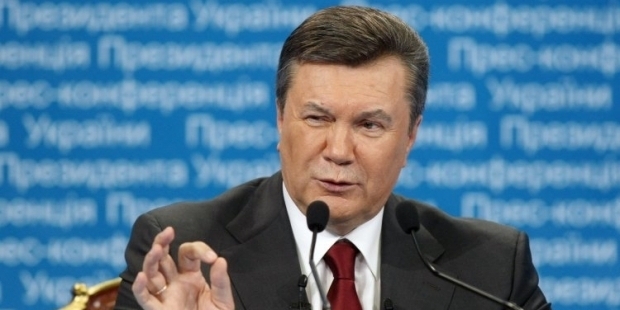 Photo from UNIAN
Earlier today, Ukrainian newspaper Ukrainska Pravda reported that ousted former Ukrainian President Viktor Yanukovych was no longer in the international wanted list of Interpol as the Interpol's webpage did not show any information on Yanukovich being wanted.
In turn, law enforcement agencies have confirmed that INTERPOL removed from its website a message about search of former Ukrainian President Viktor Yanukovych.
"It is the decision of the secretariat of headquarters of Interpol on the basis of Yanukovych's complaints," a source said.
As UNIAN reported earlier, on January 12, Ukrainian Interior Minister Arsen Avakov wrote on his Facebook page that Interpol had declared wanted former Ukrainian President Viktor Yanukovych, former Ukrainian Prime Minister Mykola Azarov and other former Ukrainian officials.
"The International Criminal Police Organization, or INTERPOL, has announced an international search or red card-detention for extradition to Ukraine of the following persons: [former President] Viktor Yanukovych,[the president's son] Oleksandr  Yanukovych, [former Premier] Mykola Azarov, [former Health Minister Raisa Bohatyriova, Yuriy Kolobov, who is the former Minister of Finance of Ukraine, and Heorhiy Dzekon, who is the former head of Ukrainian telephone company Ukrtelecom," Avakov wrote.
On February 21 of last year, former President Viktor Yanukovych fled Kyiv, first to the east of Ukraine, and then to Crimea, before finally leaving for Russia. Other members of the former president's regime left the country around the same time.
Criminal proceedings have been initiated against Yanukovych, former Prosecutor General Viktor Pshonka, and several other former officials on charges of murdering civilians. All of them are on the wanted list.
Criminal proceedings have also been opened against a number of high-ranking officials that served under Yanukovych's regime on charges of money laundering and the export of capital, including former Minister of Energy Eduard Stavytskiy, businessman Serhiy Kurchenko, former Deputy Prime Minister Serhiy Arbuzov, former chairman of the Security Service of Ukraine Oleksandr Klymenko, former Deputy Minister of Revenues and Fees Andriy Ihnatov, Board Chairman of Brokbiznesbank Oleksandr Dynnyk.