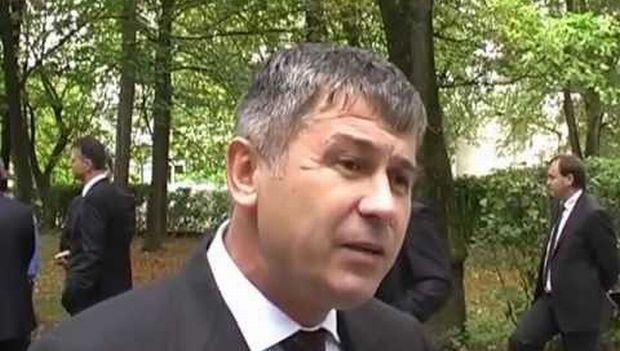 MP Lanyo has earlier attempted to flee Ukraine / Screenshot from video
"Lanyo has fled Ukraine, having crossed the border in the southwest direction, adviser to the SBU chief Yuriy Tandit said on Channel 5," Channel 5 journalist Inna Nerodyk tweeted on Friday.
#Ланьо втік із України, перетнувши кордон у південно-західному напрямку, - радник голови #СБУ Юрій Тандіт в ефірі @5channel

— Inna Nerodyk (@Nerodyk) July 24, 2015
Lanyo earlier attempted to leave Ukraine on July 17, but then he was reported to have voluntarily changed his mind.
Channel 5 footage
Lanyo enjoys MP immunity and cannot be restricted in travels. His detention should be authorized by a respective motion by the Prosecutor General's Office, which needs to be approved by the Ukrainian parliament.
As UNIAN reported earlier, the shooting occurred in the town of Mukacheve in Zakarpattia on July 11 during a conflict between the Right Sector organization and the people close to Lanyo. According to the Right Sector, Lanyo appointed a meeting with them to negotiate, as the Right Sector had been blocking flows of smuggling in Zakarpattia.
During the incident, up to five people were shot dead and up to 14 were wounded.
Prosecutor General of Ukraine Viktor Shokin created a combined investigation group from prosecutors, the SBU Security Service, and Interior Ministry officials to investigate the incident.
Criminal proceedings were opened under Part 1 of Article 255 of the Criminal Code of Ukraine (creating a criminal organization) and Part 3 of Article 258 (a terrorist act).
Several Right Sector fighters have still been hiding in the forests in Zakarpattia.