Communications data: Savchenko captured before Russian journalists killed
Ukrainian mobile operators have confirmed that captive Ukrainian pilot Nadia Savchenko's mobile phones had already been in the network in militant-controlled territory at the time when the Russian journalists whose death she is accused of were killed in the east of Ukraine, First Deputy Prosecutor General of Ukraine Yuriy Sevruk said at a briefing on Wednesday, according to an UNIAN correspondent.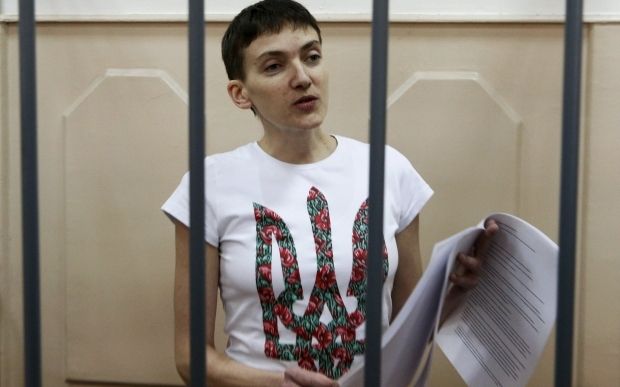 REUTERS
"These facts of the proof have been announced today by her lawyer. We have got information from our mobile operators that at the moment when the journalists were killed, Savchenko had already been captured and her mobile phones were working on the militant-controlled territory," Sevruk said.
UNIAN's memo. Savchenko was abducted by Russia-backed militants in Donbas last summer, and then taken to Russia, where she was charged with being involved in the death of Russian journalists. However, the defense claims she couldn't have been involved in the death as she had been captured before the journalists were killed.
On June 10, Moscow's City Court prolonged Savchenko's arrest until September 30, 2015, at the Investigative Committee's request.
A preliminary hearing of the case of Savchenko, who is charged with complicity in the murder of two Russian journalists in Donbas last year and illegal crossing of the Russian border, is scheduled for July 30 and will be held at the Russian-based Donetsk city court in Rostov region.
If you see a spelling error on our site, select it and press Ctrl+Enter