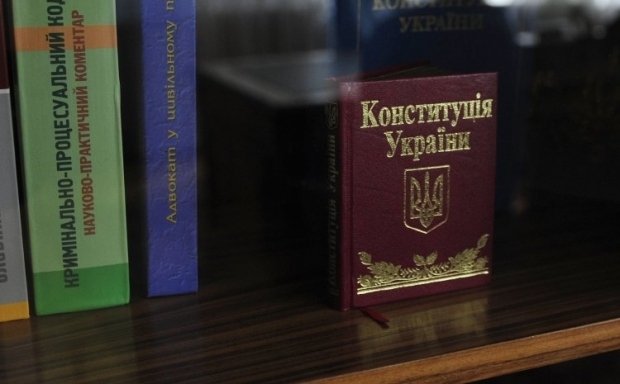 The Constitution of Ukraine / Photo from UNIAN
In particular, the Constitutional Court concluded that bill No. 2217a on amendments to the Constitution of Ukraine regarding the decentralization of power is in line with Articles 157 and 158 of the Fundamental Law, according to the conclusions posted on the Constitutional Court's official website on Friday.
"The proposed changes to Section 15 "The Transitional Provisions" of the Constitution of Ukraine by adding Clause 18 do not provide for the abolition or limitation of human and civil rights and freedoms," the conclusions said.
The final decision of the Verkhovna Rada to put the changes into force will require 300 votes of MPs this autumn.
The Constitutional Court started the consideration of the draft decentralization-related amendments to the Ukrainian Constitution along with the so-called special 'self-rule' status of Donbas on July 27 and announced its conclusions on July 30.
On July 27, the Constitutional Court's legal department issued its conclusion regarding to the draft amendments to the Constitution, stating that Clause 18 of the Transitional Provisions saying that "the special aspects of the local self-government in some districts of Donetsk and Luhansk regions shall be defined by a separate law" does not infringe on civil rights.
Donbas' special 'self-rule' status is part of the process of amending the Constitution in Ukraine. The draft law is designed to introduce decentralization across entire territory of Ukraine.
As UNIAN reported earlier, the Verkhovna Rada forwarded the draft law on amendments on decentralization of power to the Constitutional Court on July 16, in order to obtain its conclusions regarding their compliance with Articles 157 and 158 of the Constitution. A total of 288 out of 374 registered lawmakers voted for this move.