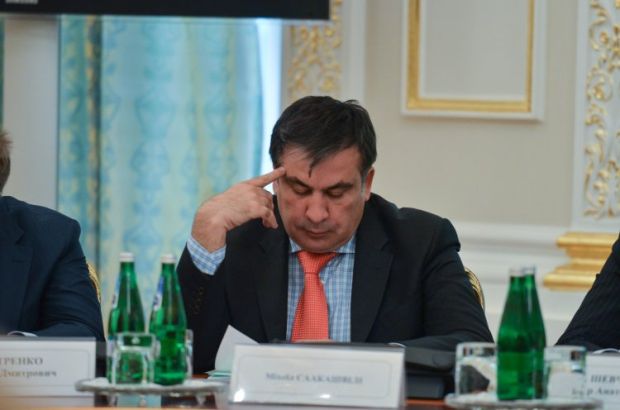 Photo from UNIAN
Saakashvili voiced his accusations against the company during a briefing held in the port of Illichivsk on July 23, 2015.
According to company's Deputy Director Samvel Barikyan, Millennium-2003 has never provided brokerage services for customs clearance of cargo as the company does not possess relevant permissions issued by the State Customs Service (currently a division of the State Fiscal Service of Ukraine (SFS).
Since 2007, the company's activities in the port have been related to providing services on weighing goods delivered by land, as well as services on storage of goods excluded from the customs supervision.
"We have actually tried to get a permit to set up cargo handling and customs facility. We've sent an official request to the chief of Odesa customs service of the SFS, but have not received an answer," Barikyan said.
In accordance with Articles 404, 405 of the Customs Code of Ukraine, customs brokerage activities are carried out under control of revenues and duties bodies on the basis of issued permits. Brokerage services cannot be provided without such a permit.
According to Article 405 of the Customs Code of Ukraine, enterprises authorized to provide brokerage services are included in appropriate registers with public access, and are available on the SFS website. No reference to Millenium-2003 exists in such registers.
The company notes that the head of Odesa Regional State Administration has been misinformed, which led to dissemination of false information about the company through media.
Read alsoFiscal Service official: Ukrainian coal siphoned to Russia, drugs smuggled back
By submitting the lawsuit the company demands to recognize information that the company provides brokerage services for the customs clearance of cargo in Illichivsk port as untruthful, as well as the statements regarding company's owners. It also demands to refute previous statements concerning the company.
Millennium-2003 was registered in 2003. The ultimate beneficiaries are Despoina Charalampos Nikolaou (Cyprus) and Inna Chumachenko (Ukraine). The company has been carrying out operations in the port based on a contract with a state enterprise Sea Commercial Port of Illichivsk dated October 31, 2007.