Crimean Tatars ask global community to recognize Russian policy as genocide
The participants of the World Congress of Crimean Tatars approved an appeal to the international community and the United Nations to recognize as genocide Russia's actions for the destruction of the Crimean Tatar people since 1783, the time of liquidation of Crimean Khanate, the people's historical homeland of the Crimean Tatars, to the present days, according to RFE/RL.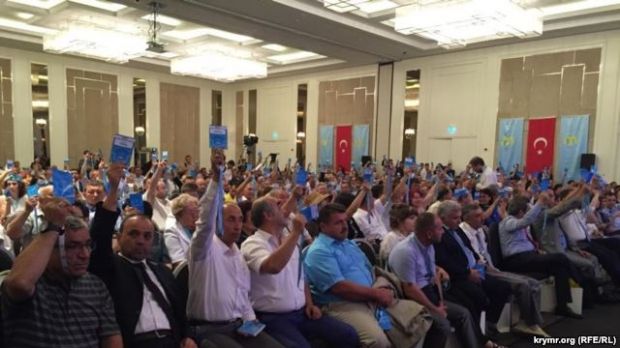 krymr.com
The appeal, adopted on Sunday, August 2, states that after the occupation of Crimea in 1783, Russia has been systematically putting pressure on the representatives of the Crimean Tatar community in order to make them leave the Crimean peninsula.
"During the 19th-20th centuries, more than 1.5 million of the Crimean Tatars were forced to leave their homeland. During the reign of the Soviet Union not only were the intellectual class and the elements of intangible cultural heritage destroyed, but also representatives of the Crimean Tatar people were deported from their homeland on May 18, 1944. Almost half of the Crimean Tatar population, deported under tragic circumstances and in conditions of genocide, was killed," the statement says.
The appeal also claims that the Soviet Union used every opportunity so that Crimean Tatars did not return to Crimea, but stayed in places of deportation.
"Today the Russian Federation, having inherited a legacy of imperial Russia and the Soviet Union, on 28 February 2014, ignoring all rules of international law and human rights, annexed the Crimean peninsula. Since then and until today Russia has been implementing a systematic policy of ignoring the fundamental freedoms concerning the Crimean Tatars, their forced emigration from Crimea and rapid assimilation; applies pressure, murders, imprisonment, deportation to those who are trying to resist and oppose its actions," reads the appeal.
UNIAN memo. The second World Congress of the Crimean Tatars is held July 31 through August 2 in the capital of Turkey, Ankara. The event is not taking takes place in the homeland of the Crimean Tatars in Crimea because of the persecution of the Crimean Tatar activists by the Russian secret services. the leaders of the Crimean Tatars - Mustafa Dzhemilev and Refat Chubarov - are banned from entering the peninsula.
Russia annexed the Ukrainian Crimea in March 2014. Ukraine and the West do not recognize the move and stress that the peninsula is Ukrainian territory.
If you see a spelling error on our site, select it and press Ctrl+Enter