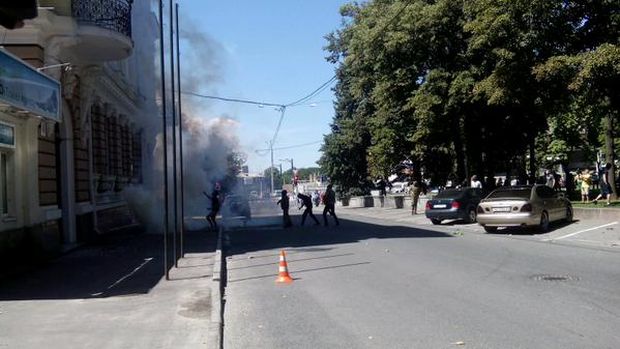 twitter.com/mediaport_ua
According to local media and witnesses, the office staff said that a few pops were heard, which they believed were shots, then they locked the office from the inside and have been staying inside.
As the Kharkiv local information resource Dozor reported, nearly 30 young people in balaclavas had damaged the minivan of Dobkin's guards and were chunking pavement stones in front of the office. They throw stones at the former office of the Party of Regions. In turn, the police blocked out Skrypnyk Street where the office is located.
Several fire trucks were spotted on Skrypnik Street but no fire or smoke was witnessed. engines, although no smoke no fire was observed. After the fire trucks left, smoke was spotted near the office of the former Party of Regions.
The supporters of the Opposition Bloc demanded from the regional department of justice to register the Kharkiv branch of the party headed by MP Mikhaylo Dobkin so that it could take part in the upcoming local elections.
Meanwhile, the area in front of the regional department of justice was occupied by the activists of Hromadska Warta (Civic Guard) organization, who oppose opposing party registration.
According to a local infomation service Mediaport, armed special police forces have surrounded the building where the office of the Oppositon Bloc is located.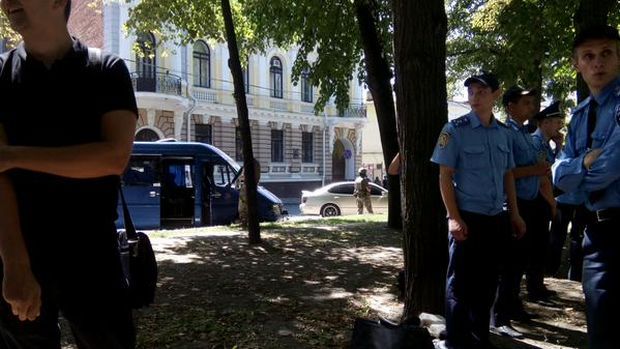 mediaport.ua