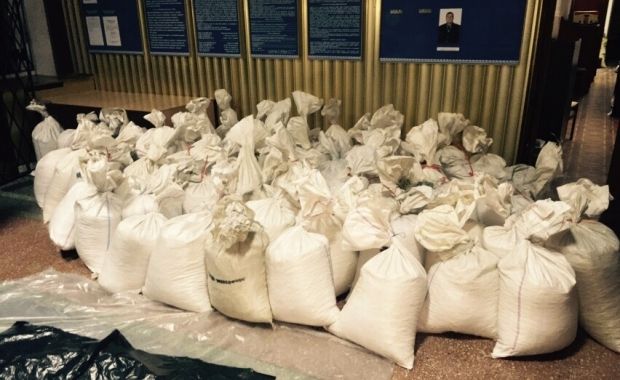 facebook.com/arsen.avakov
More than 2,500 kilograms of amber was seized by the officers of a unit on countering economic crimes of the Ministry of Internal Affairs of Ukraine together with the internal security unit on August 3, during an authorized search of a Mercedes Sprinter van on Studentska Street in Rivne, according to the Chief of the Public Relations Ministry of Internal Affairs of Ukraine in Rivne region Inna Berezovskaya,
The raid followed the police obtaining operative information that the said vehicle may transport illegally produced raw amber.
Criminal proceedings were opened under Article 198 of the Criminal Code of Ukraine, said head of Rivne regional division of the Ministry of Internal Affairs of Ukraine Serhiy Maksymov.
Law enforcers establish criminal connections between individuals involved in the illegal production of amber, and also the origin of the seized stones.
The law enforcement agencies are to issue further comments on the details of the special operation
In turn, Minister of Internal Affairs Arsen Avakov already commented on the seizure of a record bulk of raw amber
According to the Minister's posing on Facebook, the amber was already packed for further smuggling abroad.
The seized cargo has been sent to Kyiv with armed guards for expert assessment, according to the minister, but its estimated value may amount to $3 million.
He stressed that the withdrawal of amber is the result of a major operation prepared by the Ministry of Interior and the State Fiscal Service of Ukraine to expose and curb the operations of a large criminal group that operated in Rivne region and parasitized on the illegal production of amber. In this regard, the names of the people directly involved in the illegal business – former deputies, officials, law enforcement officers – will be announced later in the investigation.
The minister also recalled that he had previously said about the need to adopt a law that would regulate state control, production and marketing of amber.
Это не мешки со строительным мусором. Это мешки набитые янтарем! Этой ночью специальная группа МВД в Ровенской области...

Posted by Arsen Avakov on 3 августа 2015 г.