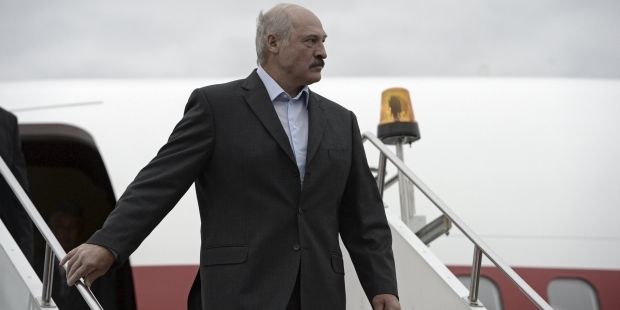 REUTERS
"When I met with [Secretary of the National Security and Defense Council of Ukraine Oleksandr] Turchynov, I assured him that this would never ever happen. Nobody will attack Ukraine from our territory unless our interests have been infringed or Ukraine has been first to attack. But this will never happen," Lukashenko told non-governmental Belarusian media, euroradio.fm broadcasts.
"There will be no intervention in Ukraine from Belarus," he promised.
In his words, there are "two absolutely peaceful" Russian military bases in territory of Belarus.
"[There is] a base in Baranovichi – probably three-quarters of our people serve there. [There is] a base in Gantsevichi – one can describe it as a high-tech engineering station that monitors rocket launches. Can they attack Ukraine? No, they can't. We've got a small group of customs officers and several Russian border guards, as there is no actual border between Russia and Belarus. I have given permission for their observers to monitor when we know this. There are ten of them," he said.
"I have asked them [Russia] to provide aircraft: "Give or sell us a dozen aircraft. I need to ensure security at a World Championship. They said they could give three aircraft. I said then: "All right. Let's have one pilot from your side and two pilots from us." I do not know whether they are on duty now or not. As far as I know, they've already flown away today. There are no Russian planes here now," the Belarusian president told reporters.
As UNIAN reported earlier, Belarusian President Alexander Lukashenko said that the leaders of Ukraine and Russia could more actively contribute to a peaceful resolution to the Donbas conflict.
"If the war has broken out, the heads of state should have gathered immediately to discuss this problem and take certain measures, [find] solutions. If they had failed – they should have at least said to face what they thought about each other. But this hasn't happened so far," he added.