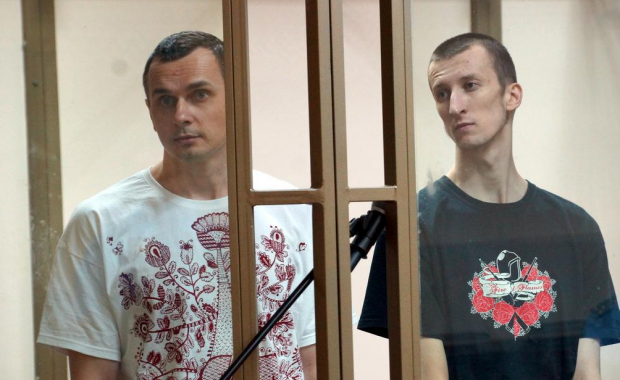 Sentsov told the court that he took part in the Maidan protests / twitter.com/antony_mon
"I am a citizen of Ukraine, who was illegally seized by your security services," said Sentsov early in his speech, defying the court's legitimacy, Ukrainska Pravda reports.
Oleh Sentsov also said that he had taken part in the Maidan protests in Kyiv, and then returned to Crimea following the Russian occupation of the peninsula. "I was on the Maidan, and it is a major step in my life. We stood up against a criminal president," he said.
The Ukrainian director said that he had been involved in volunteer work in Crimea. "As your country started to occupy my country, we have continued to do our volunteer work. But I never called for violence. I did help journalists who covered the events in Crimea, helped by [finding] translators, organizing briefings," said Oleh Sentsov.
He told the court that out of all those involved in trial he only knows Gennady Afanasyev and Aleksandr Kolchenko personally, adding that he believed, his explanations would not affect the final verdict.
He stressed that they supported the Ukrainian troops blocked in their military bases by the Russian special forces.
Read alsoTrial of Oleh Sentsov and Oleksandr Kolchenko resumes in Rostov-on-Don (updated video)In his speech, Oleh Sentsov spoke in detail about his arrest and interrogation: "I was thrown into a van, with a bag over my head, and brought to the building of the former SBU on Ivan Franko Street. A very rough interrogation started, as they asked me, if I knew the activists, who were going to blow up monuments. They started kicking and hitting me, beat me with batons while I was laying and sitting. When I refused to speak, they began to apply the strangulation. I was choked with plastic bags. They choked me four times."
Read alsoRussia holds captive 11 Ukrainian political prisoners - KlimkinMany times I've seen it in the movies, and failed to understand how people break down in these circumstances. But it's very scary, Your Honor. They threatened to rape me with a club, take me out into the woods and bury there. Four hours later, they got tired, and took me on a search. Only then did I learn that they were the FSB. They expected to find terrorists and weapons, yet they only found my child who was present during the search, which is not mentioned in the protocol. They found money – this money belongs to my production company, aimed for shooting the film "Rhinoceros".
According to Sentsov,Russian secret services offered him to testify against the leaders of the Maidan.
"I was offered to testify against the leaders of the Maidan and get seven years [in jail], or be considered as a leader and get 20," he said.
"After three days, they found weapons, because what kind of a terrorist group are we if we have no weapons?.. Six months later, FSB amazingly discovered two files on manufacturing the explosives in my laptop," he said.
"I've said all I wanted to say, I am no longer willing to take part in this show. Do what you want, I'll be sitting here quietly and I won't be answering your questions," said Oleh Sentsov.