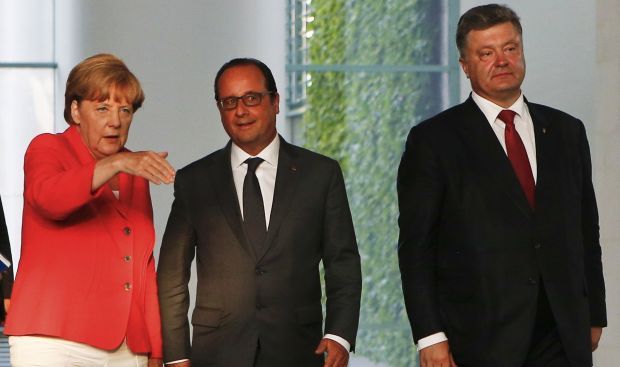 REUTERS
"We've discussed those grave dangers posed by holding fake elections on October 18 and November 1 not under Ukrainian legislation. And all this poses a serious threat to the entire Minsk process," Poroshenko said at a press conference after meeting with Merkel and Hollande in Berlin on Monday.
The sides also addressed the issue of releasing prisoners of war and other hostages held both in militant captivity and in prisons in Russia.
"I hope that the major outcome of our current meeting will be de-escalation in Donbas, an end to bloodshed," he said.
Poroshenko also thanked Merkel and Hollande for assistance in ensuring the implementation of the Minsk agreements and the fulfillment of the technical requirements of the visa free regime.
What is more, the Ukrainian president stressed that his country had consistently carried out its obligations to cease fire, withdraw large-caliber weapons and address humanitarian issues.
Russia and Russian-backed militants are the only threat to the peace process in eastern Ukraine, he added.
On August 6, 2015, President Poroshenko signed a local election law in Ukraine, providing for the October 25 local elections to exclude Donetsk and Luhansk regions. This law was adopted by the Verkhovna Rada on July 14 with 257 out of 320 MPs' votes in favor.
However, leader of the Luhansk People's Republic (LPR) militant organization Igor Plotnitsky announced that local elections would be held in LPR-controlled territory on November 1, 2015. At the same time, Russian-backed militants from the self-proclaimed Donetsk People's Republic, which controls several districts in Donetsk region, announced their "local" elections would be held on October 18, 2015.
Poroshenko said then that an attempt to hold own, illegitimate, fake elections, which are not in line with the Minsk accords, Ukrainian legislation and OSCE criteria, will mean a strong blow by Russia to the Minsk agreements, which were concluded on February 12, 2015.