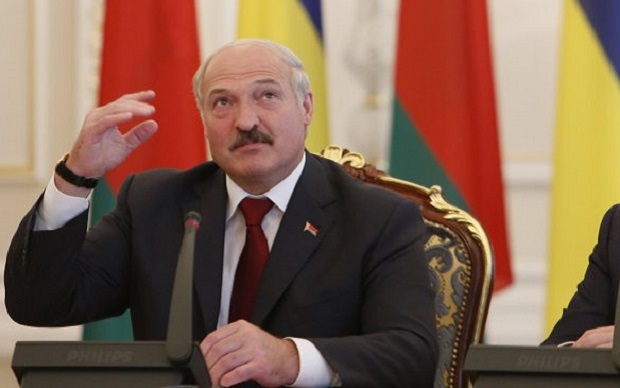 Photo from UNIAN
"One of the unexpected consequences of Russia's annexation of Crimea and proxy war in eastern Ukraine has been a chill in relations between Minsk and Moscow and a thaw in those between Belarus and the West," reads the article on RFE/RL.
"President of Belarus Aleksandr Lukashenko has been careful not to completely burn his bridges with Moscow, given his dependence on Russian subsidies, according to the article's author. Belarus remains a member of the Eurasian Union and regularly conducts joint military drills with Russia," says Whitmore.
Meanwhile, according to Russian press reports, Russian Prime Minister Dmitry Medvedev is to visit Minsk on September 9 (ostensibly for a meeting of the Eurasian Union's intergovernmental council) with the real goal of delivering the Kremlin's message: It's time to stop bobbing and weaving between Moscow and the West and get on board.
Specifically, Russia wants Belarus to allow it to build a new air base on Belarusian territory -- something Lukashenko had been resisting.
The base would be located in Babruysk, in eastern Belarus, and would station SU-27 fighter jets manned by Russian pilots, Stratfor reported. 
"It would significantly project Russian military power westward, allowing Moscow to threaten and intimidate not only Ukraine but also Poland, Latvia, and Lithuania," Whitmore believes.
And if Lukashenko resists, then the upcoming Belarusian presidential election gives Moscow a major opportunity to tighten the screws on him.
"According to Arseniy Sivitsky and Yury Tsarik of the Belarusian Center for Strategic and Foreign Policy Research, Moscow is laying the groundwork to destabilize Belarus in the aftermath of the October 11 election -- creating the "illusion of a Maidan," so Russian forces could then enter the country to restore order," reads the article.
And the information campaign appears to have already begun.
Aleksey Pushkov, chairman of the State Duma's Foreign Relations Committee, said recently that the West was planning a colored revolution in Belarus to oust Lukashenko.
The pro-Kremlin media are actively preparing public opinion in Russia and neighboring countries for war, destabilization, coups, and colored revolutions," the U.S.-based Russian journalist Kseniya Kirillova wrote recently. "And as a result, there will be a need to introduce forces into these countries under the pretext of restoring the constitutional order."
"It all looks like a threat, a hint to the Belarusian strongman about what might happen if he doesn't play ball," says Whitmore.
Tsarik notes that over the past two years we have seen the beginning of "the process of normalizing relations between Belarus and the West," which "is the natural response of Belarus to the economic collapse in Russia and the need to find new markets and new partners to ensure further development of its own economy."
Read alsoLukashenko: No intervention in Ukraine from Belarusian territoryLukashenko has earlier refused to recognize Crimea as part of Russia and even ridiculed Moscow's logic justifying the annexation, saying that Mongolia could just as easily lay claim to large swaths of Russian territory.
Read alsoLukashenko: Belarus ready to do its best for peace in UkraineHe has carved out a neutral stance on the conflict in the Donbas and has made it clear that Belarus isn't interested in being part of Putin's so-called "Russian World."
"But the Kremlin appears to have had enough," Whitmore says.