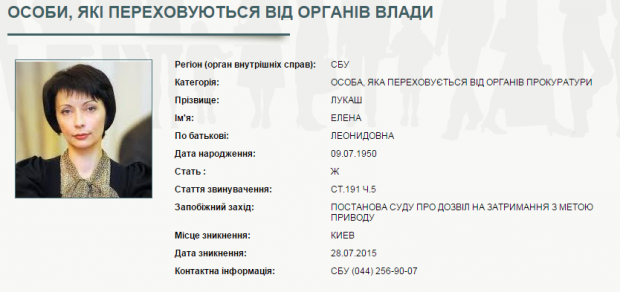 Lukash / Screenshot
According to the official information, Lukash disappeared on July 28. She is accused of the appropriation or embezzlement of funds under Part 5 of Article 191 of the Criminal Code of Ukraine. The punishment provides for payment of a fine up to fifty non-taxable minimum incomes of citizens, or up to two years of correctional work, or a prison term of up to four years, with disqualification to hold certain positions or engage in certain activities for up to three years or a lifetime disqualification of this kind.
Meanwhile, the court ordered to detain Lukash in order to bring her to court.
As UNIAN reported earlier, Ukraine's Prosecutor General's Office announced that former Justice Minister Olena Lukash, who was on the European Union's sanction list, was suspected of the misappropriation of public funds through abuse of office.