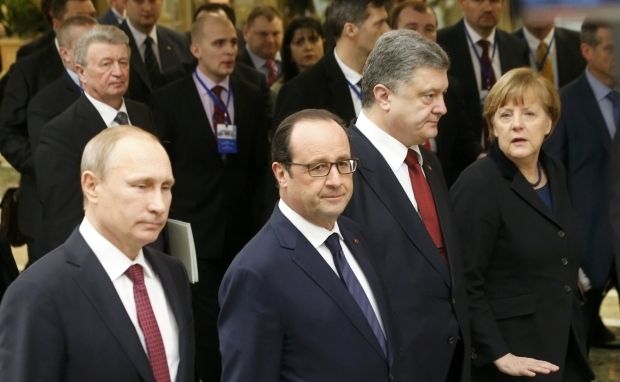 REUTERS
According to the Speaker of the Federal Government of Germany Steffen Seibert, a telephone conversation between German Chancellor Angela Merkel, French President Francois Hollande, Ukrainian President Petro Poroshenko and Russian President Vladimir Putin was held to discuss the status of implementation of the Minsk agreements.
"The parties have welcomed the recent ceasefire, which was agreed on September 1 brokered by the Tripartite Liaison Group, and called for enhanced efforts to further improve the security situation, including an unlimited and secure access of the OSCE monitors in the Donbas conflict zone, full withdrawal of heavy weapons and the completion of withdrawal of up to 100mm caliber weapons," Seibert said.
The leaders also agreed that it would be necessary to continue to work on improving the humanitarian situation in the conflict region. The opening of the first Ukrainian humanitarian logistics center along the demarcation line was highly appreciated.
"In the coming weeks, the parties should agree on terms and conditions of the local elections in the war-affected areas on the basis of Ukrainian legislation and standards of the OSCE/ODIHR," Seibert said.
The meeting of the "Normandy Four" foreign ministers in Berlin on September 12 will be dedicated to further discussion of the above-mentioned issues.
In addition, the parties reaffirmed their readiness to meet at the summit in Paris in early October.