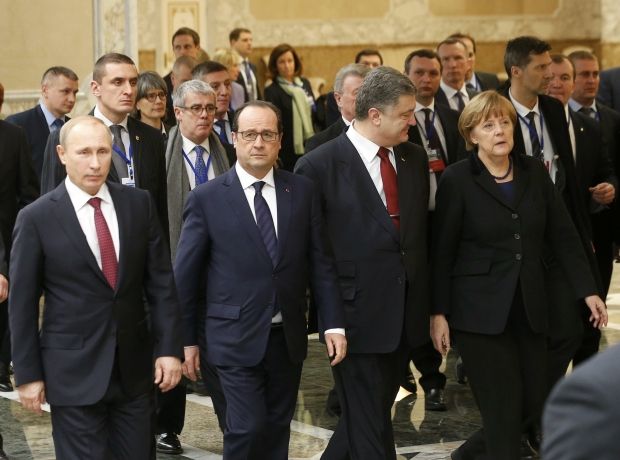 REUTERS
Ukrainian President Petro Poroshenko held a telephone conversation with German Chancellor Angela Merkel, French President Francois Hollande and Russian President Vladimir Putin, according to the presidential press service.
The parties discussed the state of implementation of the Minsk agreements and the results of the last meeting of the Tripartite Liaison Group and its four working groups, which took place on September 8 in Minsk.
The leaders noted the significant progress towards a ceasefire and emphasized the need to sign a document on the withdrawal of tanks, 100mm cannons and 120mm mortars from the demarcation line for proper monitoring and verification by the OSCE monitors, in particular through the establishment of permanent facilities along the demarcation line. Poroshenko also stressed the need for the withdrawal of all foreign troops from the occupied territories and the restoration of full control of Ukraine over the state border.
The leaders of Ukraine, Germany and France agreed that the pseudo-elections in some areas of Donetsk and Luhansk regions would be a violation of the Minsk agreements and would jeopardize the entire process of further political settlement.
Ukrainian President Petro Poroshenko called for the immediate release of all Ukrainian hostages, including those who were illegally detained in Russian prisons - Oleh Sentsov, Oleksandr Kolchenko and Nadia Savchenko.