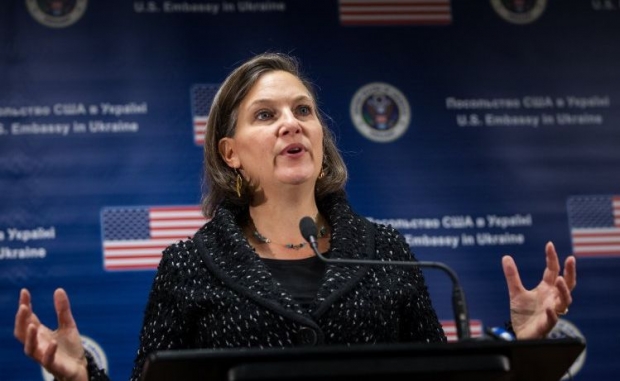 Photo from UNIAN
"We are clear that until Minsk is completed sanctions [against Russia] will not be lifted," said Nuland.
"If and when Minsk is fully implemented, including [the] return of Ukraine sovereignty of its border, we can begin to roll back some sanctions," she added.
She also said that in case if Minsk agreements are violated additional sanctions can be introduced. 
At the same time, Nuland said that the sanctions against Crimea will remain in force as long as Ukraine does not restore its sovereignty over the peninsula.
UNIAN's memo. Russia annexed the Ukrainian territory of Crimea in March 2014 after its troops invaded the peninsula, and then began to destabilize the situation in the Donbas. Later, the self-proclaimed Donetsk and Luhansk People's Republics (DPR and LPR) were created, with the direct participation of Russian special forces and the support of Russian army in Donbas, according to Ukraine officials.
A growing body of evidence shows Russia also supplies weapons to the militants of the DPR and LPR and sends mercenaries and its regular troops to fight in the Donbas.
The European Union, the United States, Canada, Japan, Australia, and several other countries imposed sanctions against Russia because of its annexation of the Ukrainian territory of Crimea and its destabilization of eastern Ukraine.
In March 2015, President of the European Council Donald Tusk said that European Union leaders had decided to align further sanctions against Russia to the implementation of the Minsk agreements and would maintain these sanctions until the Minsk agreement were fully implemented.
Experts estimate that Russia has lost EUR 98 billion as a result of international sanctions.