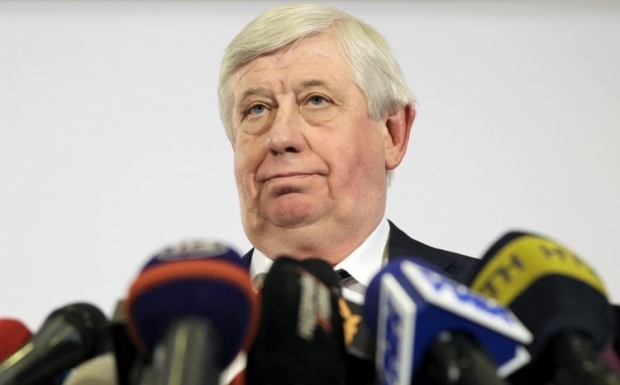 Photo from UNIAN
He assured that there was no "list of Shokin" for the detention of MPs. However, he said, it is the parliament that will have to address the issue of making lawmakers liable.
"I was accused of not arresting [MP Serhiy] Kliuyev... On June 16, 2015, we submitted a motion for his detention and arrest. Unfortunately, the Verkhovna Rada hasn't considered it until now," Shokin said.
In his words, the parliament should pass a law to prevent such cases in future.
"It would be very good on their part if our MPs cancel their immunity," he added.
Shokin said that he would meet with lawmakers to discuss the procedure for the detention or prosecution of an MP.
"I'm not going to submit any more motions, because it is nonsense... I am sure this issue needs to be urgently solved at the legislative level, and if not, then parliamentary immunity needs to be cancelled," he said.
As UNIAN reported earlier, Kliuyev was charged with crimes under Part 3 of Article 209 (large-scale transactions with property obtained as a result of a socially dangerous act that was preceded by money laundering, as well as actions aimed at concealing and disguising the illegal origin of such property and rights to such property) and Part 5 of Article 369 (bribery of a high-ranking official on a large-scale basis) of the Criminal Code of Ukraine.
On June 3, the Verkhovna Rada stripped incumbent MP Kliuyev of his immunity from prosecution and agreed to his prosecution for several crimes without authorizing his arrest.
Kliuyev attempted to leave Ukraine on the same day, but the State Border Service of Ukraine stopped him boarding a flight to Vienna from Kyiv's Boryspil International Airport.
On June 4, Kliuyev failed to appear for interrogation at the Prosecutor General's Office. Then it was reported that his whereabouts were unknown.
The Prosecutor General's Office tabled a motion for Kliuyev's arrest in parliament for further consideration only on June 16, as the parliamentary respective committee had been deciding for three weeks whether to green-light the arrest or not.