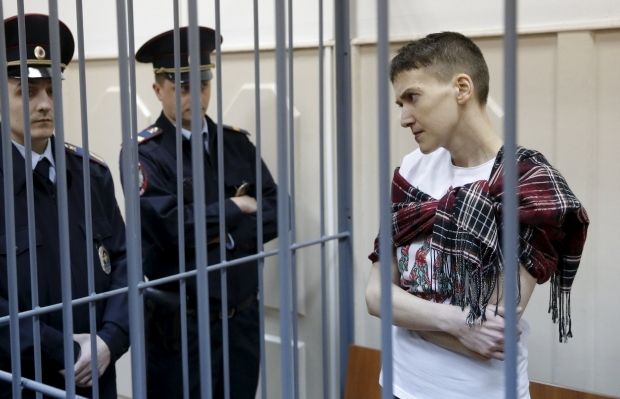 REUTERS
"Frankly, I'm afraid to even imagine what Nadezhda [Nadia] Savchenko would face if suspected of the murder of an American journalist. I'm afraid to even imagine what her fate would be. It is unlikely that we would have heard any official statements, in which concern would be expressed about her fate, from the rostrum of the State Department; and since we are talking about Russian journalists who have been killed, there is ground for political hypocrisy," Foreign Ministry spokeswoman Maria Zakharova said at a briefing.
She added that the demands of the U.S. State Department to release a Ukrainian citizen Nadia Savchenko are "hypocritical."
"The text of the Minsk Agreement is available not only to the world community, but also, in particular, to Mark Toner [U.S. State Department spokesman]. The Minsk Agreement makes no mention of Nadezhda [Nadia] Savchenko," said Zakharova.
Earlier on September 23, U.S. State Department spokesman Mark Toner said that the United States is once again calling for the immediate release of Nadia Savchenko.
As UNIAN reported earlier, Savchenko was abducted by Russia-backed militants in Donbas last summer, and then taken to Russia, where she was charged with being involved in the death of Russian journalists. However, the defense claims she couldn't have been involved in the death as she had been captured before the journalists were killed.
On June 10, Moscow's City Court prolonged Savchenko's arrest until September 30, 2015, at the Investigative Committee's request.
On July 2, the Investigative Committee announced that Savchenko and three of her attorneys completed the examination of the case materials. 
Savchenko is being accused of murder and also of attempted murder, according to the PGO statement.
Savchenko faces up to 25 years in Russian prison, according to her lawyer.
UNIAN memo. Paragraph 6 of the Minsk Agreement signed on  February 12, 2015 by the Tripartite Liaison Group reads "Provide release and exchange of all hostages and illegally held persons, based on the principle of "all for all". This process has to end – at the latest – on the fifth day after the pullout (of weapons)."