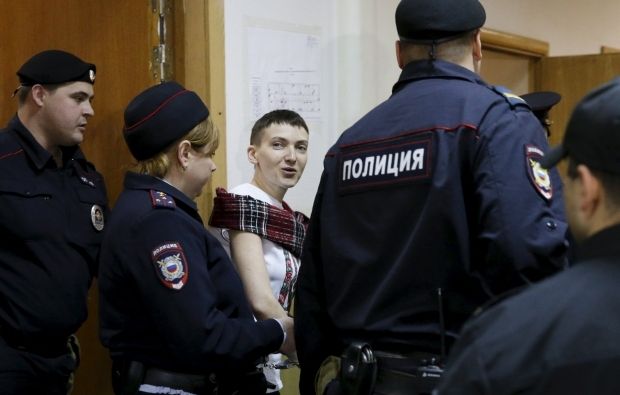 REUTERS
Savchenko is being accused of murder and also of attempted murder, according to the PGO statement.
The criminal case was sent for trial to the Donetsk city court of Russia's Rostov region.
"In view of the evidence collected, investigators reclassified the actions of the accused, and she will now be held responsible not as an accomplice, but as a co-executor of the murder of two or more persons, committed in a cruel way, motivated by hatred towards a social group, committed by a group of persons under preliminary conspiracy. Moreover, Savchenko is being charged with attempted murder of civilians who may have been affected as a result of her adjustment of artillery fire. The sanction of the article provides for punishment of up to a life imprisonment, but in accordance with the Criminal Code, life imprisonment is not assigned for females. Thus, the maximum term of imprisonment that Savchenko faces is 25 years," reads the report of the Investigative Committee of the Russian Federation.
UNIAN's memo. Savchenko was abducted by Russia-backed militants in Donbas last summer, and then taken to Russia, where she was charged with being involved in the death of Russian journalists. However, the defense claims she couldn't have been involved in the death as she had been captured before the journalists were killed.
On June 10, Moscow's City Court prolonged Savchenko's arrest until September 30, 2015, at the Investigative Committee's request.
On July 02, The Investigative Committee announced that Savchenko and three of her attorneys completed the examination of the case materials.