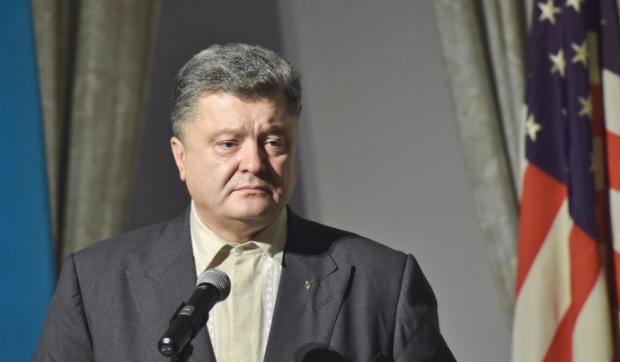 President Poroshenko has arrived in New York to attend the UN General Assembly / Photo from president.gov.ua
"After the annexation of Crimea and aggression in Donbas, when a permanent member of the UN Security Council blocks the actions and instruments of the Security Council, we must either increase the efficiency or build new security mechanisms," the president told journalists in New York where he arrived to attend the 70th session of the UN General Assembly.
According to Poroshenko, the given initiative has already been endorsed by many other countries.
He also noted that all international contacts within the General Assembly would be aimed to ensure a powerful Transatlantic unity and solidarity with Ukraine. "The annexation of Crimea, aggression in Donbas, sanctions against Russia and well-coordinated actions aimed to force Russia to fulfill the Minsk agreements are the first priority of all our partners," he said.
Commenting on some media reports that Ukraine could become a bargaining chip in negotiations between the U.S. and Russia on the Syrian issue, Poroshenko said: "It is a part of Russian information warfare against Ukraine and the entire civilized world aimed to show that the world is allegedly tired of Ukraine." The president cited the statements of representatives and leaders of a series of countries about the top-priority character of Ukraine. "We efficiently coordinate our actions to ensure the fulfillment of the Minsk agreements, prevention of fake elections that Russia plans to conduct in October and November [in Donbas], and the implementation of actions in response in case the elections are held. We must force Russia to return to the negotiating table and do everything to ensure the immediate implementation of the Minsk agreements," he said.