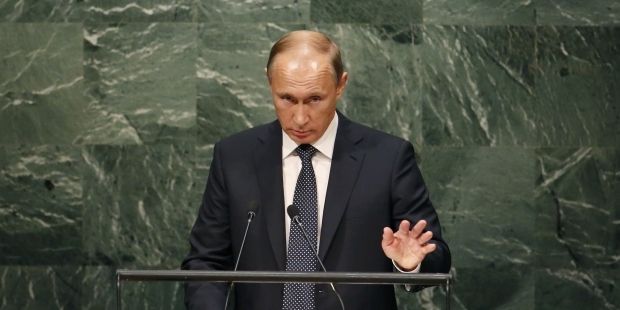 REUTERS
"However, today sanctions which bypass the United Nations Charter have become commonplace. Apart from pursuing political goals, they are also used as a method to remove rivals from the market," Putin said, TASS reports.
Putin claimed that the international sanctions rule out the countries' recent dreams of the world without the demarcation lines, like in WTO.
The activity of any state in bypassing resolutions of the United Nations Organization is illegitimate, Russian President Vladimir Putin went on to say.
Read alsoTension clouds Obama, Putin meeting: CNN"The sole center of domination" emerged in the world after the end of Cold War, Putin said. "And then those, who found themselves at the top of that pyramid, felt a temptation to think that if they are so strong and exceptional, they know better than everybody else what to do, and thus (as they believe) it is not necessary to reckon with the UN, which often only 'stands in the way' instead of automatically sanctioning, legalizing the necessary decision," Putin said.
As UNIAN reported earlier, U.S. President Barack Obama reiterated during his address at the UN General Assembly that the sanctions imposed against Russia would remain in place.