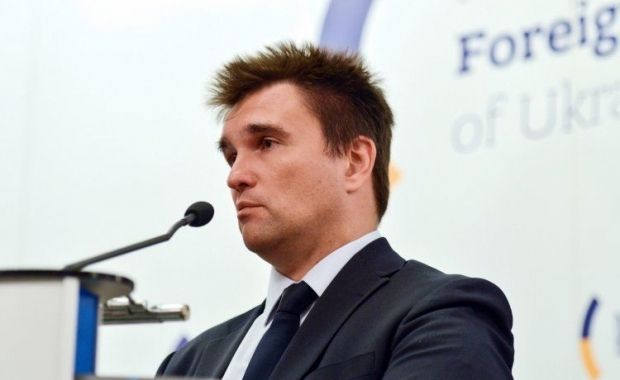 Photo from UNIAN
"As you can imagine with all kinds of Russian weaponry brought to Donbas it is still imaginable to buy Kalashnikov [rifle] on the black market, it is far difficult to buy armored vehicle or tank on the black market but it is fully impossible to buy highly sophisticated and anti-air missile complex, and as you can imagine even if you get such a complex from somewhere, trying to smuggle it, operating and handling this complex is absolutely impossible; so no one at that time had any kind of awareness of such a threat," Klimkin said.
Klimkin also noted that a number of countries that support the establishment of an international tribunal have "several options on the table" as to how to hold those responsible for the MH-17 catastrophe accountable.
"We need a procedure which should be legally compulsory also for Russia, because we need to get perpetrators and to bring them to an internationally legal body, fully transparent and of course fully accountable," the minister said, adding that if Russia persists in rejecting such an option, it will be "not just indirect, but also direct example and sign" of Russia's involvement in the tragedy.
"We will find other ways both in the sense of getting physical persons, and bringing them to justice, and in the sense of clearly proving that Russia is a state-sponsor of terrorism. Because bringing such a highly sophisticated and extremely dangerous anti-air missile system into Donbas is exactly an example of actions, which could be and should be treated as acts of terrorism and war crime, " according to Klimkin. 
UNIAN's memo. Flight MH17 heading from Amsterdam to Kuala Lumpur was downed in Donetsk region on July 17, 2014. There is mounting evidence that the plane was shot down by a powerful Buk-M anti-aircraft missile system. All 298 people on board were killed. Most of the passengers, 194, were Dutch citizens, while 43 people, including all of the aircraft's crew, were citizens of Malaysia.
The plane crashed near Shakhtarsk in Donetsk region, in an area controlled by Russian-backed militants.
The bodies of the crash victims were transferred to the Netherlands for forensic medical examination and identification.
On July 24, 2014, Ukraine delegated the investigation of the aircraft crash to the Netherlands.
Malaysia tabled a draft resolution at the UN Security Council to set up an international tribunal to investigate the MH17 accident. An initiative to set up the tribunal had previously been put forth by Australia, Belgium, the Netherlands, and Ukraine.
Russia used its right to veto the resolution on the tribunal at a UN Security Council meeting on July 29, 2015.
After the voting on the tribunal, Minister of the Foreign Affairs of the Netherlands Bert Koenders announced that his country together with Malaysia, Australia, Belgium and Ukraine would continue searching mechanisms to make those who were guilty of the MH17 tragedy bear responsibility.
On October 13, 2015, the Dutch Safety Board announced that investigators had come to a conclusion that MH17 had been downed by a Russian surface-to-air Buk missile. The missile was launched from a 320km sq area, Tjibbe Joustra, Dutch Safety Board's chief, said while presenting the results of the investigation to the public at an airbase in the Netherlands.