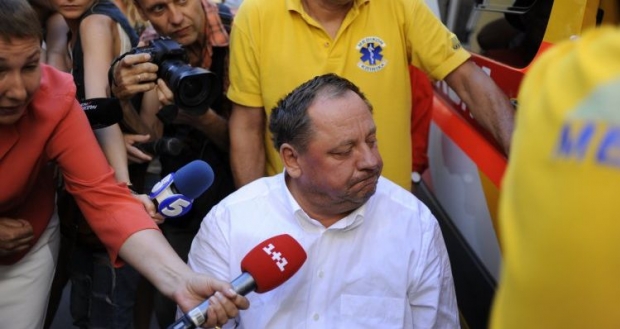 Photo from UNIAN
"The claim filed by prosecutor Volodymyr Kazmyrenko of the second pre-trial investigation and public prosecution procedures department of the Prosecutor General's Office of Ukraine, demanding the extension of [Melnyk's] house imprisonment shall be partly satisfied. Extended should be the term of house imprisonment of suspect Petro Volodymyrovych Melnyk, born on June 18, 1957. He should not leave his place of residence at 18 Lisova Street in the village of Dmytrivka in Kyiv-Sviatoshyn district in Kyiv region from 22:00 to 06:00 in the next six months, namely until December 1, 2015," a court ruling reads, according to RBC-Ukraine.
According to judicial records, the prosecution asked the judge to extend the preventive measure for Melnyk, who is suspected of committing serious crimes – embezzlement of property on a large-scale basis.
UNIAN memo. Melnyk was arrested on July 27, 2013 while receiving bribes in amount of UAH 40,000 and UAH 80,000 from two citizens of Ukraine in exchange for admission of their relatives to National State Tax Service University.
On August 1, 2013, Kyiv's Pechersk District Court decided on house arrest as a restrictive measure for Melnyk until September 27.
On August 9, Melnyk escaped from house arrest and disposed of his electronic bracelet.
On August 14, 2013 he was put on an international wanted list.
On April 1, 2014, Interior Minister Arsen Avakov announced that Melnyk had been detained in Boryspil international airport, having arrived from London.
On June 24, 2014 the Main Investigation Department of the Internal Affairs Ministry completed a pre-trial investigation within criminal proceedings regarding Melnyk's bribe-taking.
As part of the criminal proceedings opened under Part 4 Article 368 (acceptance of an offer, a promise or receipt of improper advantage by an official) of the Criminal Code of Ukraine, law enforcers found that in July 2013, the former rector took improper advantage in a significant amount for assisting with admission of two students to the educational institution.
The suspect was released on UAH 609,000 bail. In addition, the arrest was imposed on the property and cash assets owned by Melnyk. The indictment was handed over to Kyiv region's Irpin City Court.
On July 8, the Irpin court dropped all charges against Melnyk, revoking arrest on property.
On July 10, advisor to Ukraine's Interior Minister Anton Gerashchenko posted on Facebook footage showing the arrest of Melnyk.
On July 14, the Prosecutor General's Office appealed the acquittal of Melnyk.