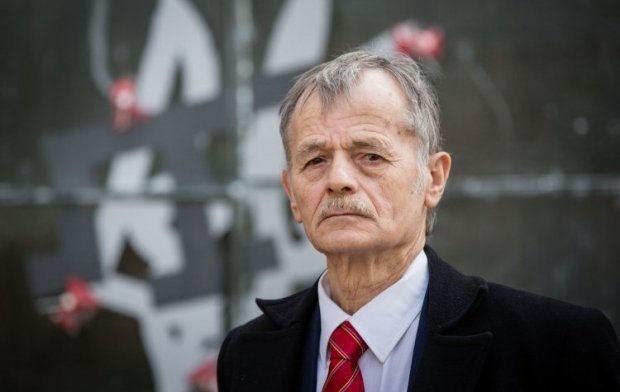 Mustafa Dzhemilev / Photo from UNIAN
Dzhemilev meant the lines that provides electricity to some areas of Kherson region and the line leading to Zaporizhia nuclear power plant (NPP).
"We will partly allow specialists to conduct mine clearance and repair works. There's a line there that leads to several areas of Kherson region, bypassing Crimea. People have no power there. We will let the brigades restore this line. People on the mainland should not suffer. Another line leads to the Zaporizhia NPP," he said.
Dzhemilev said that negotiations on the resumption of power supply to Crimea would be possible after the release of the Ukrainian political prisoners in the occupied peninsula and in Russia.
The leader of the Crimean Tatar people also suggested that Russia might introduce more trade restrictions in response to an energy blockade of Crimea.
Read alsoUkrenergo says four days needed to restore power transmission following blasts in Kherson region"They don't ship anthracite to us anymore. It will be more expensive, but we still can buy it in South Africa. Of course, it's quite expensive. But we need to gradually change our views and cut all ties with Russia. All our oligarchs and politicians, who are in business relations with Russia, will oppose this," Dzhemilev said.
As UNIAN reported earlier, the two out of the four transmission pylons on the administrative border between mainland Ukraine and Russian-occupied Crimea, which were damaged by blasts in the early hours of November 20, were destroyed completely late on Saturday, November 21, according to reports in social networks.
The four transmission pylons belong to the power grids supplying electricity to Crimea and some areas in Ukraine's Kherson and Mykolaiv regions.
"As a result of the damage to the lines and substations, the electric grid operator has been forced to halt the electricity supply to two districts in [Ukraine's] Kherson region and to Crimea. What is more, there is a risk that 40% of households in Kherson and Mykolaiv regions may suffer power failures," the statement said.
The Crimean occupying authorities have announced Monday, November 23, will be a bank holiday on the peninsula due to a total power blackout after the transmission lines in the south of mainland Ukraine that supplied electricity to Crimea were destroyed in the early hours of November 22.
Almost two million people were cut off power supply.