The Washington Post: On Ukraine's front lines, U.S.-supplied equipment is falling apart
The United States has delivered more than $260 million in non-lethal military equipment to help the government of Ukraine in its fight against a Russian-backed insurgency, but some of the U.S.-supplied gear meant to protect and transport Ukrainian military forces is little more than junk, The Washington Post wrote.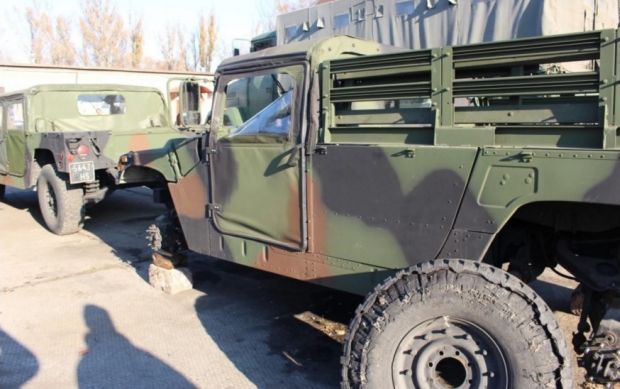 Thomas Gibbons-Neff/The Washington Post
On the outskirts of the separatist-controlled city of Donetsk, for example, one Ukrainian special forces unit is using U.S.-supplied Humvees dating from the late 1980s and early 1990s, based on serial numbers on the vehicles, the report reads.
Three of the Humvees had plastic doors and windows — barely any protection at all. The tires on one of the trucks blew apart after driving only a few hundred kilometers, the result of sitting in a warehouse too long, said one mechanic.
Another infantry unit of approximately 120 men received from the Pentagon a single bulletproof vest — a type that U.S. troops stopped using in combat during the mid-2000s.
Pentagon spokesman Army Lt. Col Joe Sowers wouldn't comment directly on the condition of the vehicles but said in an e-mail that the United States has continued to send equipment and provide training "to help Ukraine better monitor and secure its border, operate more safely and effectively, and preserve and enforce its territorial integrity."
U.S. officials attributed the presence of rundown U.S. defense equipment on Ukraine's front lines to the need to get equipment to Ukraine quickly at the start of the war.
According to a senior Defense Department official, the United States was wholly unprepared for Russia's involvement in Ukraine and had to source funds and respond to Ukraine's requests for aid from a "cold start."
It is unclear how much of the material sent to Ukraine is secondhand and antiquated. The U.S. government has also sent new equipment, such as night vision and first-aid kits. Troops there have also received advanced equipment such as counter artillery, counter mortar radars, and communications gear.
If you see a spelling error on our site, select it and press Ctrl+Enter