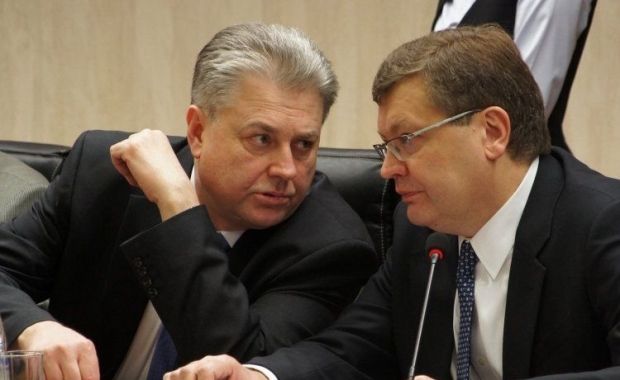 Yelchenko (left) will advocate Ukraine's interest at the UN / Photo from UNIAN
A respective presidential order was signed by Poroshenko on December 9, the presidential press service said.
Commenting on this diplomatic appointment, Ukrainian Foreign Minister Pavlo Klimkin said: "I'd be glad to see Volodymyr Yelchenko soon as head of the Permanent Representative Office of Ukraine to the United Nations. We will jointly work in the interests of Ukraine."
Describing tasks set before the new Ukrainian envoy to the UN, Klimkin said: "Efficient work within the UN Security Council is our new summit. To conquer the summit, we're giving fresh momentum to our mission in New York right now. Ukraine is lucky to have a team of professionals who know how to deal with the UN and are capable of effectively managing its work at all levels in the interests of our state."
In Klimkin's view, Volodymyr Yelchenko is among such professionals. "This is the man who knows the UN like the palm of his hand, enjoys authority there and has unique experience of presenting Ukraine at the UN Security Council during our membership there in 2000-2001," he added.
Klimkin claims that Yelchenko's experience as Ukraine's Ambassador to Russia will also be useful in his new position. "He is very good at the specifics of Russian diplomacy. I'm sure that his experience will be precious at the UN's platform where he will be advocating the interests of Ukraine, sitting at the same table with the aggressor state's representative," the minister said.
Yelchenko replaced Yuriy Sergeyev, who was Permanent Representative of Ukraine to the UN from April 2007 to December 2015.
Klimkin praised Sergeyev's work as envoy to the UN. He said that Ukraine needs this professional's experience. "After eight years of Yuriy Sergeyev's continuous work in New York, I'll be glad to welcome him in Kyiv, where he'll have a lot of work to do as part of our team of foreign affairs," he said.