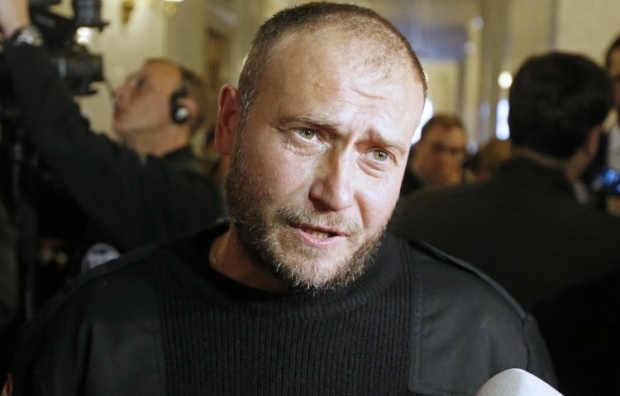 Yarosh wants to create a new national patriotic movement in Ukraine / Photo from UNIAN
"Now it is time to concentrate on issues of national importance. Our movement has grown, become stronger and is now entering a new stage of its development. Now we want to appear not as a movement that has narrow functions, but as a national, patriotic one in order to unite all patriots of Ukraine. Without radicalism typical of peripheral social groups and without liberal empty rhetoric. Building an independent Ukrainian state remains our goal. We've got a dual task – to preserve the existing state as a springboard for building national statehood and to conduct revolutionary change in it to ensure the freedom, justice and well-being of the Ukrainian nation," the statement said.
At the same time, Yarosh stresses that "as was before, we do not abandon the revolutionary path, but we categorically reject pseudo-revolutionary activity that threatens the existence of Ukraine as a state and stains the reputation of the patriots."
"We are in opposition to the incumbent government, but we do not consider blood shedding, doomed-to-failure revolts against it as an option. With all the above reasons, my team and I are leaving the Right Sector national liberation movement. We are initiating the creation of a new political movement whose founding congress is scheduled for February. We are now working on its development, the concept of [our] activity, programmatic guidelines," Yarosh said in the statement.
As for the Ukrainian Volunteer Corps, who have defended the village of Pisky, the Donetsk airport, the village of Shyrokyne, the Saur-Mohyla area in the Anti-Terrorist Operation zone in eastern Ukraine, who have created the Hospitallers medical battalion whose members have saved thousands of lives, Yarosh said: "They need to grow and develop further, to move to a new level."
"Therefore, the 5th and 8th battalions of the Ukrainian Volunteer Corps and the Hospitallers medical battalion are being reorganized into a Ukrainian volunteer army. It will be one of the structures that will form our new movement. We are continuing to fight at the front line against the foreign aggressor and work at the home front to develop our country," he added.