Court rules to remand UKROP leader Korban in custody for two months
Judge of Kyiv's Dniprovsky district court Mykola Chaus has satisfied a claim filed by prosecutors for remanding UKROP Party leader Hennadiy Korban in custody for 60 days, an UNIAN correspondent reported.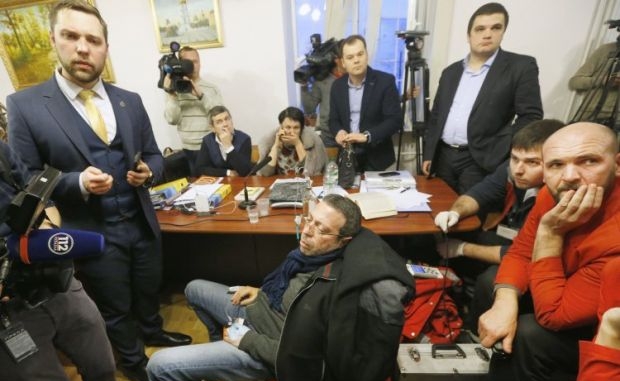 Korban asks those in the courtroom to remain calm and keep order / Photo from UNIAN
Having read the ruling, the presiding judge left the courtroom, the correspondent said.
Korban addressed those present in the room and urged them to remain calm and keep order. He said he was sure that a court of appeals would repeal the ruling as his legal reasoning was very firm.
"I wouldn't like anybody to be harmed because of me. Let us achieve our results, using legal means. We've got two days [until December 31] for the lawyers to submit an appeal – it has already been submitted. We have a good legal position. I ask you all to come when there are hearings on the appeal," he said.
After that he was taken out of the courtroom through the side door usually used by judges to exit, at the same time, free attendees, journalists and Members of Parliament who came to attend the hearing were kept in the courtroom.
"The ruling was read out by judge Mykola Chaus accompanied by chants: 'Shame on you!' The court's conclusions mentioned the names of the lawyers dismissed by Hennadiy Korban. The [other] lawyers claim that the wording of the ruling had been prepared beforehand," head of the UKROP Party's press service Yevhenia Kravchuk said.
"It was a telling trial. Today there are two Ukraines – the one that is fighting and wants change, reform, an honest life, and the other that we've inherited from the past, which is living according to old rules, imposing illegitimate justice and committing acts of corruption. But thanks to such civil society we will win," she quoted Korban as saying.
As UNIAN reported, Korban was detained by the SBU Security Service of Ukraine. He was charged with several crimes, namely the creation of a criminal group. Korban refutes all the charges.
On December 26, Kyiv's Dniprovsky district court started considering a claim filed by the Prosecutor General's Office for changing the defendant's pre-trial restriction from home arrest to detention on remand.
Korban's home arrest expires on December 31.
If you see a spelling error on our site, select it and press Ctrl+Enter