Russia's Gryzlov visits Kyiv at Poroshenko's personal invitation - media
Russia's representative to the Trilateral Liaison Group Boris Gryzlov arrived in Kyiv on Monday at the personal invitation of Ukrainian President Petro Poroshenko, that's according to ZN.UA.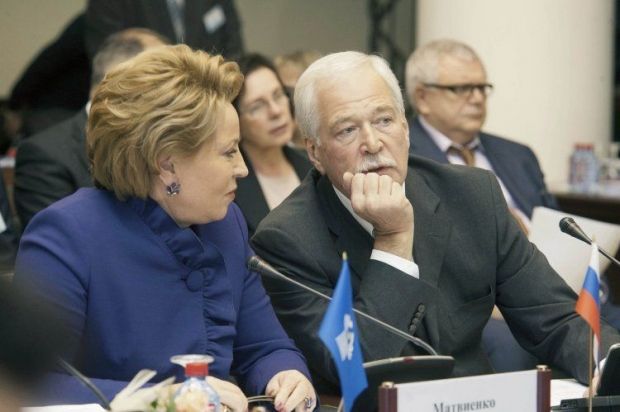 Gryzlov met with Poroshenko in Kyiv / Photo from UNIAN
That is why Gryzlov's plane was promptly provided an air corridor and landing clearance, ZN.UA reported citing its source.
It is noted that the purpose of this meeting was to discuss the main points in Moscow's relations with Kyiv. According to the source, Putin sanctioned Gryzlov to be party to such conversation.
The online newspaper reported that the meeting between Poroshenko and Gryzlov started after the return of the Ukrainian President from Ternopil at about 22:00, ending at 01:00. After the meeting, Gryzlov headed to the airport immediately and departed from Boryspil at 02:00.
The source also said that one of the topics of the talks were constitutional changes to be submitted to Parliament's vote before the end of the current session.
Read alsoRussian representative to Contact Group arrives in Kyiv - sourceAs UNIAN reported earlier, Russia's Representative to the Contact Group on the settlement of the Donbas crisis, ex-Duma Speaker Boris Gryzlov, arrived in Kyiv.
Gryzlov was appointed as plenipotentiary representative of Russia to the Tripartite Liaison Group on December 26, 2015. Russia was first represented in the Contact Group by Mikhail Zurabov. Russian President Vladimir Putin replaced him in April with Azamat Kulmuhametov.
If you see a spelling error on our site, select it and press Ctrl+Enter