Stratfor: Moldova finally appoints Govt amid protests
Just a week before Moldova would have had to hold early elections, the country's Parliament approved a new government led by former IT and Communications Minister Pavel Filip, which allows the Moldovan Parliament to remain intact under a pro-European coalition, according to U.S-based private intelligence company Stratfor.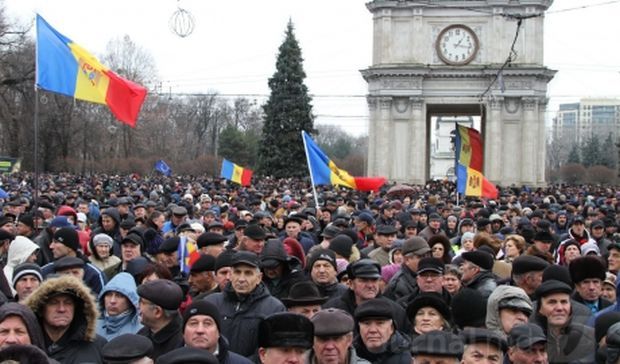 jurnal.md
As UNIAN reported earlier, mass protests led by the pro-Russian forcesstormed the parliamentary building. "Actions like this show that pro-Russia elements within the country will pose a challenge for the new government, perpetuating the divisions within Moldova's political system that undermine the small but strategic country's efforts to integrate with the West," according to Stratfor.
Despite protests, Moldovan Presiden Nicolae Timofti has approved Filip as Prime Minister, signing a corresponding Decree, according to Russia's Sputnik.
"Moldova's Jan. 20 parliamentary vote to approve the new government ended nearly three months of political deadlock in a country that plays an important role in the competition between Russia and the West in the former Soviet periphery," reads the report. "The previous government, led by former Prime Minister Valeriu Strelet, collapsed Oct. 29, 2015 after Strelet lost a no-confidence vote over allegations of corruption."
The analysis also reveals the timeline of choosing the right candidate for the post: "Moldovan President Nicolae Timofti then put forth Ion Sturza as a prime ministerial candidate on Dec. 21, 2015, but Sturza was unable to get the required majority of votes. Moldova's pro-Europe coalition then proposed oligarch Vladimir Plahotniuc as a candidate in early January, but Timofti blocked Plahotniuc's nomination for "moral reasons." Following that, Filip was floated as a compromise candidate and garnered 57 votes in the 101-seat parliament — enough to become the new prime minister."
Stratfor stresses on divisions in Moldova's political system: "Moldova is split almost evenly between EU-oriented parties, such as the Democratic Party, Liberal Party and Liberal Democratic Party, and Russia-oriented parties like the Socialists, Communists and Our Party. This split has led to several government collapses and early elections in recent years. However, amid the country's latest political crisis, several Communist lawmakers broke away and joined the Democratic Party in a new bloc called the Social-Democrat Platform. This bloc, along with defectors from the Liberal Party and Liberal Democratic Party, gave Filip the majority he needed to form a government."
"Despite the avoidance of new elections, which almost certainly would have given the edge to pro-Russia parties, the new Moldovan government's pro-Europe orientation and perhaps even its sustainability will encounter challenges," the analysts say. "The pro-Russia Socialists and Our Party have led numerous demonstrations calling for new elections, including the protest outside Parliament as the vote occurred Jan. 20."
Stratfor says the protests will probably continue — and could grow in size and intensity — while the new government is in power: "Protesters might also try to maintain a presence in the parliamentary building and potentially other government buildings, similar to Ukraine's Euromaidan protests in late 2013 and early 2014 that eventually toppled then-President Viktor Yanukovich."
Filip's government also faces serious economic challenges as "the country is still reeling from currency depreciation and a banking corruption scandal that cost Moldova more than $1 billion, equal to roughly 12.5% of the country's gross domestic product."
"Conditions like these, along with the increasingly fractious nature of Moldova's Parliament, will give Filip's government very little leeway," reads the report. "In the case of yet another government collapse, early elections probably would be unavoidable and would give Moldova's pro-Russia elements the chance to stall, if not reverse, Moldova's efforts to integrate with the European Union."
UNIAN earlier published an analysis of political situation in Moldova by Da Vinci analytical group, which forecast a high probability of a coup-d'etat  organized by pro-Russian forces under coordination of special services of the Russian Federation.
If you see a spelling error on our site, select it and press Ctrl+Enter