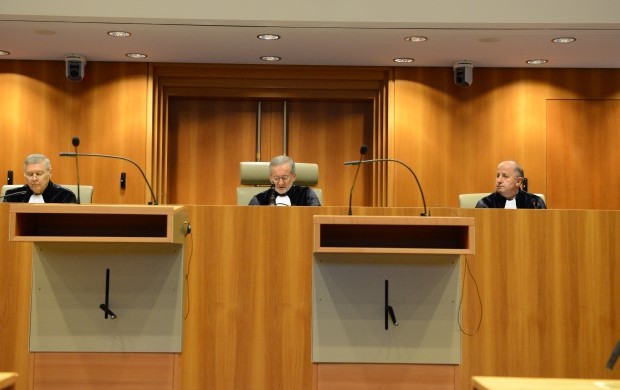 Photo from UNIAN
The decision was announced in Luxembourg on Thursday.
"In response to the crisis in Ukraine which began at the end of 2013, the Council decided, on March 5, 2014, to freeze the assets and economic resources of the persons identified as responsible for the misappropriation of Ukrainian State funds. Mykola Azarov and Serhiy Arbuzov, who both successively held the position of Prime Minister of Ukraine until February 2014, together with Azarov's son (Oleksiy Azarov) and two other Ukrainians (Serhiy Klyuyev, brother of the former Head of Administration of the President of Ukraine, and Edward Stavytskiy, former Minister for Energy and the Coal Industry of Ukraine) were, for the period from March 6, 2014 to March 5, 2015, included on the list of persons subject to the freezing of assets on the ground that they were the subject of preliminary investigations in Ukraine relating to offences connected with misappropriation of Ukrainian State funds and their illegal transfer outside Ukraine," the press release said.
The five Ukrainians brought proceedings before the General Court with a view to having their inclusion on the list annulled.
The Court finds that, as in the Andriy Portnov case, the Council identified the five Ukrainians as being responsible for misappropriation of funds solely on the basis of a letter of March 3, 2014 from the office of the Prosecutor General's Office of Ukraine stating that investigations of those persons had made it possible to establish that large amounts of public funds had been misappropriated and had subsequently been unlawfully transferred out of Ukraine. The Court takes the view that that letter provides no details concerning the matters specifically alleged against the five Ukrainians or the nature of their responsibility.
"A person cannot be treated as being responsible for misappropriation of funds solely on the ground that he is the subject of a preliminary investigation in a third country, without the Council being aware of the matters alleged against that person in that investigation," the court explained.
The Court concludes that the freezing of the assets of the five Ukrainians does not satisfy the designation criteria, and therefore annuls that measure for the period from March 6, 2014 to March 5, 2015.
At the same time, the second decision of the EU Council that the sanctions have been extended for another year remains in force.