Poroshenko Bloc names possible candidates for new government
The Petro Poroshenko Bloc parliamentary faction at its meeting on Monday, February 1, approved a list of the faction's possible nominees to ministerial positions should a new Ukrainian government be formed, according to Ukrainian online newspaper Ukrainska Pravda.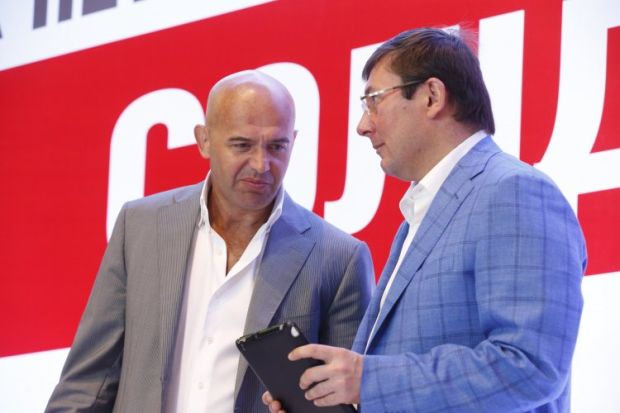 Lutsenko has announced possible nominees from the Poroshenko Bloc to ministerial positions / Photo from UNIAN
The Poroshenko Bloc faction's leader Yuriy Lutsenko was authorized to announce the names of the candidates at talks with the factions forming the current parliamentary coalition for their further approval, Ukrainska Pravda reported with reference to MP from the Poroshenko Bloc, former Ukrainska Pravda journalist Serhiy Leshchenko.
In particular, MP Oleksiy Honcharenko, born in 1980, former chairman of Odesa Regional Council, is proposed as a nominee to the health minister's position, while MP Hlib Zahoriy, born in 1976, former Director General of Kyiv-based Darnitsa pharmaceutical firm, is proposed to be appointed as environment minister, and Taras Kutovy, born in 1976, former president of the UkrLandFarming Group's PJSC Rise agriculture company, as agriculture minister.
Ex-MP, elected on Vitali Klitschko's UDAR Party list, incumbent adviser to Kyiv Mayor Vitali Klitschko, Pavlo Riabikin, born in 1965, who was deputy head of Kyiv City State Administration and worked as deputy transport and communication minister in 2005-2006, could be nominated for the position of infrastructure minister, while Ukrainian theater and cinema actor Yevhen Nyschuk, born in 1972, who was culture minister from February 27 to December 2, 2014, could become culture minister again.
Former Deputy Principal of Kherson University, MP from the Poroshenko Bloc and First Deputy Chairman of the parliament's committee for science and education, Professor, Computer Science & Engineering, Oleksandr Spivakovsky, born in 1957, could be nominated by the Poroshenko Bloc as education minister.
Lawyer Vitaliy Kovalchuk, born in 1969, who is deputy head of the UDAR Party, could become first vice premier and MP from the Poroshenko Bloc Olha Belkova, born in 1975, a graduate from the John F. Kennedy School of Government at Harvard University, is proposed to the newly created position of vice premier for European integration.
Yet, Leshchenko said, the faction failed to reach a quorum, which means that the decision was taken in violation of the faction's rules and regulations.
If you see a spelling error on our site, select it and press Ctrl+Enter