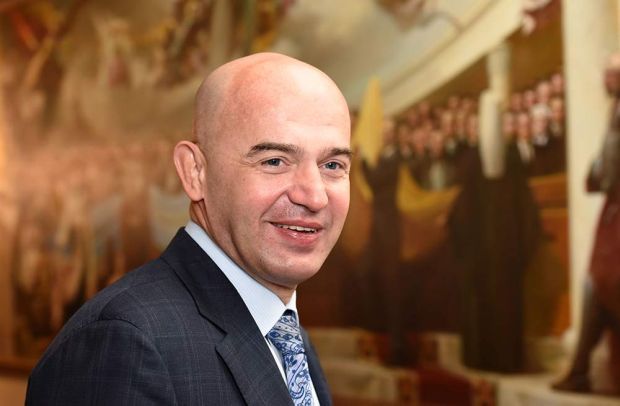 First Deputy Head of the Petro Poroshenko Bloc's parliamentary faction Ihor Kononenko / Photo from solydarnist.org
"On Wednesday, February 3, NABU detectives started to probe into the facts announced by Minister of Economic Development and Trade Aivaras Abromavicius about possible interference in the ministry's work by First Deputy Head of the Petro Poroshenko Bloc's [parliamentary] faction Ihor Kononenko and some other MPs. The information was included in the state register of pre-trial investigations with pre-legal qualification of an offense under Part 2 of Article 364 of the Criminal Code of Ukraine "Abuse of Power or Misuse of Office," the NABU said in a statement.
In this regard, Abromavicius will soon be invited to the NABU for questioning as a witness on the facts he mentioned during a news conference on February 3, 2016.
"The NABU will scrutinize the facts and conduct necessary investigations to establish the truth as soon as possible," the statement reads.
As UNIAN reported earlier, Abromavicius decided to resign, stressing that the key reason for his resignation was the conflict with Kononenko.
"My team and myself ‒ we do not want to be a cover for blatant corruption or controlled puppets for those who want to establish control over public funds in style of the old government. I don't want to come to Davos to meet with foreign investors and partners, telling them about our successes, while certain issues in the interests of certain individuals are solved behind my back," he said in a statement posted on the ministry's website.
"These individuals have names. And I do want to name one of them. This is Ihor Kononenko. As a representative of the political party that nominated me for the post of minister, he has done a lot recently in order to block my work and the work of my team. First, the Petro Poroshenko Bloc's deputies controlled by Kononenko drafted a resolution on my resignation and submitted it to parliament through the Vidrodzhennia faction. For several months, it has gained just 18 votes," Abromavicius said.
"During the year, Ihor Kononenko actively lobbied his people for the position of Ukrtransamiak director. Kononenko was personally interested in Ukrtransamiak where, instead of throwing out MP from the Party of Regions Bondyk from office, he got his people to manage the company together with the latter. MP from the Petro Poroshenko Bloc directly controlled by Kononenko pressed on appointment in Derzhzovnishinform, powder metallurgy enterprises, and the National Accreditation Agency of Ukraine," the statement said.
The culmination of the lawlessness in personnel issues and desire to fully subdue [the money] flows was the will to have his [Kononenko's] "own" deputy minister in the Economy Ministry, who would be responsible for Naftogaz and other state-owned enterprises. The candidate presented a full package of documents for his appointment and said: "I want to be your deputy. I'm in Kononenko's team, and my candidacy has been agreed above." Then I received a call from the presidential administration with an insistent recommendation to accept this person, and also another one ‒ as deputy for defense issues. To which I replied: "I will not be part of this bargaining," and asked to release from office.
"Eventually, Kononenko said he wants to hear my report at a faction meeting and consider my resignation. I decided to facilitate the task of Kononenko and his team, so I submitted a resignation letter," said Abromavicius.