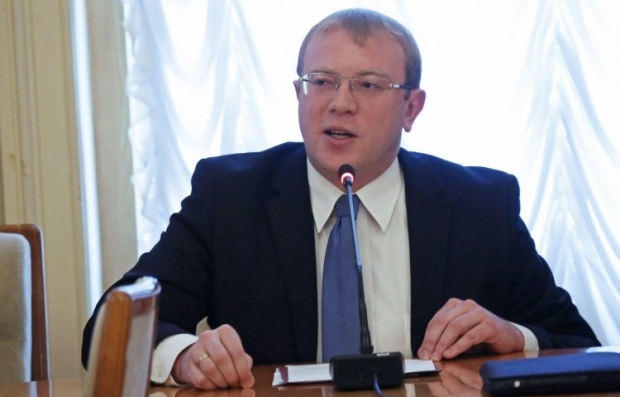 New Ukrainian Ambassador to Canada Andriy Shevchenko said he hopes Canada will boost its support for his country / Photo from UNIAN
Shevchenko said in an exclusive interview with National Post that he hopes Canada will boost its support for his country, including through the provision of arms and long-term aid. He also defended his government's slow fight against corruption, which has become a concern for Canada and other donors.
But despite the Trudeau government's plan to treat with Russia on the Arctic and other areas of mutual interest, Shevchenko said the Liberals have been as supportive of Ukraine as were the Conservatives.
"If we go back to facts, if we go back to actions, as of the moment I can clearly tell you we don't see any differences or changes in the Canadian policy," the ambassador said. "And we really hope it will stay that way."
The previous Conservative government took an even tougher line than the U.S. and many European countries by suspending virtually all contact with Moscow after Russia invaded Crimea in March 2014 and began supporting rebels in eastern Ukraine.
Foreign Affairs Minister Stephane Dion, however, has said it is in Canada's self-interest to re-engage with Russia, particularly on areas of mutual interest such as the Arctic, leading Conservatives to accuse the Liberals of "cozying up" to Russia and "abandoning" Ukraine.
Shevchenko admitted receiving phone calls and emails from Ukrainians concerned about Dion's comments. Russian Foreign Minister Sergey Lavrov's suggestion last week that Prime Minister Justin Trudeau and Russian President Vladimir Putin talked at the G20 in November about "normalizing relations" didn't help.
"They called me and wrote me asking what it means," he said. "'Does it mean that Canada betrays us? Does it mean that Canada changes its decisions and policy?' And my answer to them is clearly no. Because everything that I hear from my new Canadian friends and our Canadian counterparts is very clear."
The ambassador said he has never heard a Canadian official talk about normalizing relations with Moscow, which would entail setting aside differences. In fact, he predicted the conversations the Liberal government plans to have with Russia about the Arctic, where it is increasing its military presence, will be anything but cozy.
"You're a neighbour of Russia, just like Ukraine," he said. "And I think many Russian neighbours can tell you it's not the safest or the most responsible neighbour to have. From our communication with Canadian officials, we know that Canada knows (Russia) is a major challenge."
Since popular protests ousted then-Ukrainian president Viktor Yanukovych in February 2014 Canada has provided assistance and support to Ukraine in various forms, including loans, a free trade agreement, development money, military and police training and non-lethal military aid such as bulletproof vests.
Shevchenko said his country appreciates Canada's help, but would welcome more, including stronger sanctions against Russia. And while Canada has consistently refused to provide arms to Ukraine — and that's unlikely to change — Shevchenkomade the pitch anyway.
"We need them just as much as at the beginning of the conflict," he said. "When I came here, I was surprised to learn from that many Canadians thought the war was over in Ukraine. It's not. Every day we keep getting reports on ceasefire violations. And on any given day, this can escalate."
The ambassador also said much of Canada's assistance to Ukraine has been approved only for the short term. Funding for a training mission that seems RCMP officers working with their Ukrainian counterparts, for example, is due to expire at the end of March. Ukraine would like to see that effort, as well as others dealing with law enforcement and the rule of law, continue for the foreseeable future.
But that in turn may require more from Ukraine in terms of fighting corruption. Last week, the country's respected economics minister resigned over what he said was rampant corruption in the government, accusing members of President Petro Poroshenko's own inner circle of stealing billions in public funds.
In response, 10 ambassadors to Kyiv, including Canada's Roman Waschuk, wrote a joint letter in which they asked Ukraine's leaders to "set aside their parochial differences, put the vested interests that have hindered the country's progress for decades squarely in the past, and press forward on vital reforms."
A champion for openness and accountability while working as a journalist and parliamentarian, Shevchenko acknowledged that the ambassadors' "extraordinary" letter echoed the concerns many Ukrainians have about the slow progress being made.
But Shevchenko said Ukraine's president has taken the minister's allegations seriously, and progress is being made in the fight against corruption. After so many failed attempts at democracy and turning the page on its troubled past, Shevchenko believes Ukraine is on the right path.
"My feeling is this time is going to be different," he said. "I think we understand this is the chance."