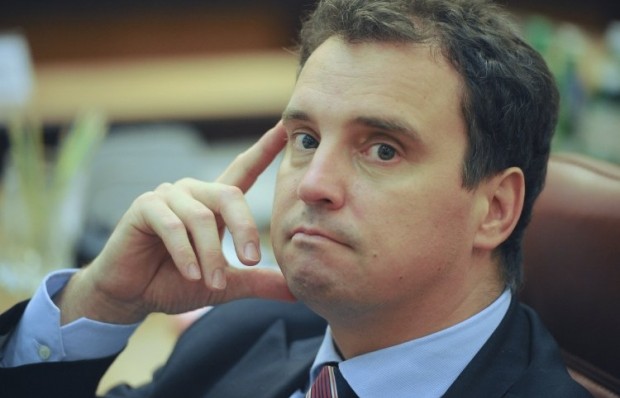 Photo from UNIAN
MP and former journalist Serhiy Leshchenko has published in his blog on the website of Ukrainska Pravda online newspaper what he claims is a screenshot of a messenger chat between Minister of Economic Development Aivaras Abromavicius and executive chief of Naftogaz Andriy Pasishnyk.
The screenshot shows Pasishnyk writing Abromavicius that he received an offer to become a deputy minister "from the Petro Oleksiyovych [Poroshenko]'s team."
"I was invited by Kononenko. He said that they agreed [ the matter] with the prime minister," wrote Pasishnyk.
Abromavicius responds by asking, why they had not agreed this issue with him.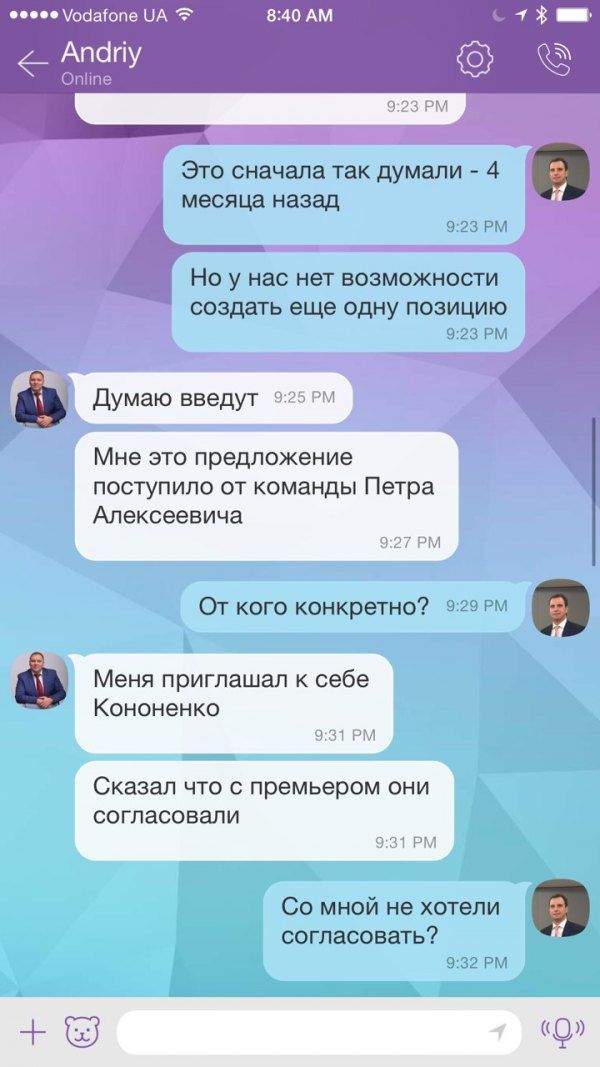 Published screenshot of the chat between Abromavicius and Pasіshnyk / Ukrainska Pravda
Leshchenko suggests that the need to appoint Pasishnyk was caused by "excessive autonomy" of the management of the state-owned Ukrgazvydobuvannia. This company used to be one of the main sources of income for the influential deputies from the Volya Narodu [Will of the People] group, whose votes were often used by the pro-presidential faction in parliament.
"The head of the company became Oleh Prokopenko affiliated with the "Volya Narodu," and Oleksandr Romanyuk – his first deputy. They began "purging" the company, which allowed saving 500 million in just half a year on public procurement. The new managers started breaking the deposit contract with the bank of Moskalenko-Yeremeyev [MPs from the Volya Narodu group, the latter deceased], they canceled the delivery of equipment at inflated prices, and last week, they terminated the contracts on joint activity," wrote Leshchenko.
"The cost of participation of the Volya Narodu in the coalition as an informal member was supposed to be their man appearing in the field of control over Ukrgazvydobuvannia. That man is the deputy chairman of the board of Naftogaz, the former assistant of [deceased] Yeremeyev and ex-employee of the enterprises of Continuum group of companies, Andriy Pasishnyk,", he said.
Read alsoPoroshenko to G7, EU envoys: Government needs "rapid reload"As UNIAN reported earlier, on February 3, the Minister of Economic Development and Trade of Ukraine Aivaras Abromavicius decided to resign and called for Parliament to vote on this issue the next day, February 4. The Minister stressed that a key reason for his move was a conflict with the deputy head of the BPP faction, Ihor Kononenko.