Poroshenko, Juncker coordinate further steps on EU visa-free regime for Ukrainians
Ukrainian President Petro Poroshenko and European Commission President Jean-Claude Juncker have coordinated further steps on the introduction of a visa-free regime for Ukrainians, according to the official website of the President of Ukraine.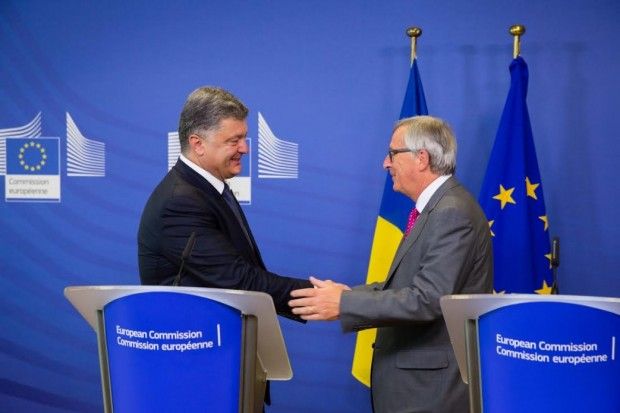 Poroshenko, Juncker / president.gov.ua
Speaking by phone, the interlocutors also discussed amendments to the law on e-declarations and praised the achievement of compromise in the Ukraine-European Commission negotiations on those amendments, the report says.
Jean-Claude Juncker is hopeful that the Ukrainian Parliament would make a positive decision regarding the legislative settlement of that issue in compliance with the EU standards. It will be a stride towards the implementation of anti-corruption policy and help Ukraine integrate into the EU in a few years.
Poroshenko praised the decision of the EU Council of March 10 regarding the prolongation of restrictive measures of the EU against 146 individuals and 37 organizations imposed for the disruption of territorial integrity, sovereignty and independence of Ukraine until September 15, 2016.
The President of Ukraine also thanked the EU for supporting Nadia Savchenko who had been abducted from the territory of Ukraine. Poroshenko urged the EU to increase pressure on Russia in order to release Nadia Savchenko and other Ukrainians who have been illegally detained.
The parties agreed to have a meeting on March 17 in the course of the Ukrainian President's visit to Brussels.
If you see a spelling error on our site, select it and press Ctrl+Enter